Archives
---
Volume 14 Issue 6 — March/April 2009
---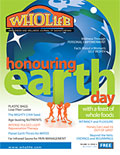 Honouring Earth Day with a Feast of Whole Foods
by Two Women from Burr
For the past seven years Marie Saretsky and Laurel Merkosky, known as the Two Women from Burr, have been putting on an Earth Day Whole Foods Supper at the Burr Community Hall. On Saturday, April 18th, 2009, they invite you to take part in this year's unique and friendly, earth-honouring event, which once again will be hosted by Causeway Natural Health of Humboldt, SK. Both Laurel and Marie come from farm backgrounds and it shows in their cooking. The supper is a colourful feast that comes straight from the earth, complete with appetizers, soup, and Good Spirit organic bread, and a main course buffet consisting of salads, hot vegetables, vegetarian and meat entrées, followed by dessert and herbal tea.
Read the article.
---
The Mighty Chia Seed
by Paulette Millis
Chia seeds may sound familiar to you, as you may have seen or heard of Chia Pets, a novelty gift that grows green "hair" on terra-cotta figurines! Chia (Salvia hispanica) is from the Mint family. The word chia, derived from an Aztec word "chian", means oily, and the species was named "hispanica" (of Spain) because it was described from plants cultivated in Spain. The plant, an annual, grows to one metre tall, with purple and white flowers. The seeds are mottled and typically small ovals one millimeter in diameter. Central and Southern Mexico grew chia seeds as a major crop into the 16th century when it was banned after the Spanish Conquest because of its association with Aztec "Pagan" religion. Chia was the third most important crop behind corn and beans. This seed was used to pay tribute and taxes to the Aztec priesthood and nobility. More recently production has flourished in Latin America. The good news for us is that insects hate the chia plant, meaning we have no trouble finding organic seeds.
---
Age-busting Nutrients
Copyright © 2008 by Joe Smulevitz, CH, MH
We can't stop our bodies from aging, but we can take a nutritional approach to help our bodies age better. As the years go by we become less efficient at absorbing vital nutrients that are important to our health and well-being. We can help counter this effect by increasing our intake of certain nutrients, either as a supplement or from food sources. Here is a rundown of some key anti-aging nutrients: A nutrient that was primarily known for bone health and preventing fractures in the elderly, vitamin D, is now recognized as a critical nutrient in preventing many age-related diseases. A growing body of evidence indicates that low levels of vitamin D increases the risk of certain cancers, heart disease, diabetes, multiple sclerosis, and more. The majority of vitamin D is produced in the skin in response to sunlight exposure. The elderly, who convert less vitamin D with sunlight compared to younger people, are more likely to be vitamin D deficient. Only limited amounts of vitamin D are available in foods such as dairy products, oily fish, and eggs. Therefore, older adults, especially in the winter months, should consider supplementation with 1,000 international units (IU) of vitamin D3 daily (better absorbed than D2) to provide protection against these killer diseases.
---
End of the Affair
Plastic Bags Lose Their Luster
by Sheryl Eisenberg
Nearly 75 years ago, soft plastic ranked up there with the Mona Lisa and Tower of Pisa as one of civilization's masterpieces, at least according to Cole Porter in his masterpiece, "You're the Top." Feelings have changed a bit since then. While plastic remains the ne plus ultra as far as convenience is concerned, people are not so thrilled with its nasty habit of never, ever going away. Plastic bags, in particular, have come in for a lashing because of the way they litter the streets, get tangled in treetops, choke sea turtles and other animals who mistake them for food, clog municipal sewage systems and, once in landfills, refuse to decompose. What we have here is yet another love-hate relationship that we do not have the strength to end. As a result, governments at all levels around the world have found it necessary to step into the breach to save us from ourselves.
---
Horses Can Lead Us To, Through, and Out of Grief
by Carol Marriott
The phone rings and the voice on the other end says they saw my Ravenheart Farms advertisement and felt compelled to call. As they talk I listen carefully, paying attention to what their needs are and what inspired them to make the call. I hear an array of similar reasons, such as: they grew up with horses but have been away from them for many years; they have always loved horses, but are afraid of them; they have horses, but want to understand and deepen their relationships with them; they are inspired by horses in their visions and dreams; or they are experiencing some kind of change or loss in their lives and are grieving. As the conversation continues I start to detect a familiar theme of loss. The losses range from the death of a loved one, the end of a significant love relationship, loss of their own health, illness of a family member or close friend, and an assortment of other losses, big and small. They are grieving these losses, and somehow, they are called to connect to the horses.
---
Intimacy and Pleasure
Putting a Little Love in Your Heart
by Sheila Unique
In the beginning of November, 2008, Oprah Winfrey had a show on television totally dedicated to sex. She had a therapist talk about all aspects of this topic and I found it startling to hear her say that 1 in 5 married couples (40 million) live in a sexless marriage. She also said that more than half of men and women are not satisfied in their sexual relationships. If this is what's happening in the USA, to some extent it must be happening in Canada. With those statistics, it made me wonder what is blocking people from participating and enjoying the art of lovemaking? Where do people lose that connection in their partnerships?
---
Beyond the Veils: Endings and Beginnings
by Mother Earth (Gaia) Through Pepper Lewis
Copyright © 2008
This article is about who and what we are beyond our human selves. It is about transitions and what awaits us beyond this life. The questioner is not Pepper Lewis, but we are grateful for the opportunity to reprint such a rich expression of life and death.
A few years ago I was diagnosed with a terminal illness. Although I took the diagnosis seriously, I believed that my spiritual practice, strict adherence to the Law of Attraction, and open-minded belief in alternative healing modalities could undo whatever damage had been done. For a while it seemed that I was succeeding, but recently I was given less than a year to live and I knew it to be true. Ironically, that same day my friends and I had been discussing our willingness to help usher in a new vision for earth and humanity, as well as where we would celebrate winter solstice 2012. Now my investigations and curiosities are of a different nature, and I am hoping that my questions and your answers will be of assistance to others, as well as myself.
---
Editorial
by Melva Armstrong
April is Earth Month and April 22 is Earth Day! I think it is important that we have yearly events such as these so we can celebrate the beauty and significance of the things most precious and dear in our lives. The many shifts and changes that are happening to the earth's environment, to our financial institutions, and to our personal lives cause many to be fearful. However, we can shift our thinking in the opposite direction and turn that fear to love and compassion. By recognizing and honouring all the gifts and goodness that we do have, we will find comfort and joy during these times of transformation.
---
Plus:
Profile: Using Far Infrared Saunas for Pain Management
Profile: Focusing on Wellness Through Personal Empowerment
Facts About a Woman's Self Worth
For Smooth and Healthy Skin: Intense Pulsed Light (IPL) Rejuvenation Therapy
Natural Reflections: Planet Earth Thirsts for Water
News of Note
---
Recent Issues
---