Archives
---
Volume 14 Issue 3 — September/October 2008
---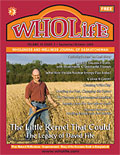 The Little Kernel That Could
The Legacy of David Fife
by Judith Finlayson
Peterborough's County Road 4, also known as David Fife Line, is a long way from New York's trendy Tenth Avenue. Symbolically, it's an even greater distance from #85, the street address of Del Posto, one of the priciest restaurants in that city. In 1842, when Ontario farmer David Fife first planted the seeds a friend had sent from Glasgow, he could not have imagined that their descendent wheat – now known as Red Fife – would appear on a menu developed by Mario Batali, one of North America's top chefs and restaurateurs. Del Posto's Red Fife Pappardelle in Butter may represent the first time the name of a variety of wheat has appeared on a menu, and it tells an inspiring story: the little kernel that could.
---
Carbohydrates: The Real Story
by Paulette Millis
The best quality carbohydrates (carbs) are those in their primary state – unprocessed and whole; whole grains, legumes (dried beans), nuts, seeds, fruits, and vegetables. Carbs are a source of energy, the main source of blood glucose, a major fuel for all of the body's cells. They are essential to fighting infection, maintaining health and growth of bones, skin, nails, cartilage and tendons, and important in normal metabolism of fats. The recommended daily intake of carbohydrates for maintenance of weight is 55 to 150 grams. The minimum required per day is 35 grams. One serving is one small slice of bread, 1/2 cup cooked cereal, rice, or pasta. Carbs are our source of dietary fibre, of great value in helping balance blood sugar, and necessary to regulate gastrointestinal transit time and facilitate efficient elimination.
---
Moving Towards Health with Biodynamic Craniosacral Therapy
by Susan Pulvermacher
Imagine devoting an hour of your time to making sense of what your body is telling you. Imagine feeling healthy right in the centre of your being. Biodynamic Craniosacral Therapy (BCST) offers a starting point for you to witness the healing process that is already taking place in your body. This is a type of bodywork that emphasizes the therapeutic value of slowing down and being present. It offers you the ability to feel "whole" again.
---
Creating With Clay
by Teresa Gagne
Have you ever wanted to reconnect with your inner mudpie-making child or perhaps play with clay for the first time? Teresa Gagne approaches clay in a fun and creative way and loves to share her passion for pottery with others. She offers individualized instruction, designed to meet your schedule and desires, to groups of up to four people at a time in her well-equipped pottery studio. Teresa says, "Clay is a powerful tool for me. It grounds me, helps me find my centre and connects me to the Earth as well as to countless generations of potters."
---
Animal Partners – Healing People and Our World
by Carol Marriott
I was visiting a friend in Manitoba one weekend and during a family gathering I met her elderly and very frail, wheelchair-bound father. He was a long-retired farmer — you know, the tough-as-nails type with an "animals are only worth anything if you can work them or eat them" kind of attitude. Understanding that this attitude can be the result of upbringing, culture, economic environment, or a fear of animals, I thought I would try an experiment! I picked up a tiny 6-week-old kitten from a family of cats living on the acreage where the party was being held and I brought this tiny ball of fur to my friend's father. I showed him the kitten and he opened his arms to it, so I placed it gently on his lap as he sat in his wheelchair. The look on his face was pure joy. His eyes lit up brightly and tears sprang forth. This kitten touched a place in his heart so deeply hidden and protected that his emotional reaction took my friend and her family by surprise. Never before had they witnessed this soft place in his heart.
---
Healing the Past, Changing the Future
by Douglas De Long
For more than seventeen years I have worked as a past-life therapist. Hundreds of people have come through my doors from various walks of life. All of them have been unique with equally unique reasons for seeking a past life regression. Spiritual development, soul-searching, emotional pain release, and outright curiosity are but a few reasons. It is always been my belief that if you heal your past, you can positively affect your present, and ultimately change your future for your greater good.
---
Empowerment
The Story of the Grameen Bank in Bangladesh
by Donald Sutherland, PAg
Most of us feel overwhelmed, powerless, miniscule, and insignificant as we gaze out upon a world spinning toward environmental collapse. Every morning we wake up to stories of glaciers melting, polar bears drowning, and oceans thickening with plastic. The clean-up task just seems too large for ordinary mortals such as we. If desperately poor, mostly illiterate, and often gender-oppressed women can become empowered to change their world, so can we. The story of the Grameen Bank is about empowerment.
---
Editorial
by Melva Armstrong
The times they are a'changin', and so is WHOLifE Journal. We have expanded this issue to 48 pages due to an increase in advertisers and editorial content. So we are growing along with all our readers and with the growth of our entire province. I remember when being in Saskatoon felt like living in sleepy hollow; now every part of the province is booming and bursting with energy, renewed vitality, growth, and development. It is exciting to live here at this time and to be experiencing the energetic changes that are happening on all levels – physical, mental, emotional, and spiritual. Saskatchewan is filled with powerful energy and I am convinced that people already here and those being drawn here at this time are all part of the healing of the planet, as well as the healing of all individuals who are awakening to their full potential.
---
Plus:
Colour It Green!
What Role Should Nuclear Energy Play Today?
The Purpose of Dysfunctional Families
Auntie, How Do You Talk To God?
News of Note
From Our Readers
---
Recent Issues
---