Archives
---
Volume 14 Issue 4 — November/December 2008
---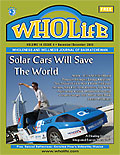 Solar Cars Will Save the World
by Guy Dauncey
It seats two and has a top speed of 90 kilometres an hour. When it arrived in Vancouver in early July, driven by a young Swiss adventurer and explorer of the future called Louis Palmer, who I'll come to in a while, it had been driven 32,000 kilometres around the world, without using a drop of gas. What does it run on? Pure sunshine, delivered free of charge to a small trailer with six square metres of photovoltaic cells. Louis calls it his "solar taxi" because he takes so many people for rides. It has turned heads wherever it goes and it has travelled from Europe to Saudi Arabia and to India, Bali (for the global climate conference), New Zealand, Australia (across the Nullarbor Plain), Singapore, Korea, China, and to Vancouver. What does it cost? The car was custom-made so it is impossible to tell, but similar, small electric vehicles sell for under $20,000.
---
Update on Soy: Studies Link It With Health Problems
by Paulette Millis
We have been hearing more and more about "the joy of soy" over the past decade. Is it really possible that one food could alleviate hot flashes, reduce cholesterol, and fight cancer? New research is showing the error of our ways. In her book The Whole Soy Story (New Trends Publishing), author and nutrition expert Kaayla T. Daniel, PhD, CCN, points out the many studies now linking the ingestion of soy to dysfunction of the thyroid gland – a serious issue for many – digestive difficulties, weakened immune systems due to allergies or intolerance to soy, reproductive disorders and infertility, malnutrition, and even cancer and heart disease.
---
Water – It is Our Life's Blood
by Sylvia Herbach
Water is the major substance of living matter. It comprises 50% to 90% of the weight of living organisms. Humans require this life-giving liquid to survive. We need water to distribute vital minerals throughout our body via our blood stream. We need it for our digestive system to work properly. We then require it to flush our bodies of the unwanted materials left from the food and liquid that we consume. In addition to the digestive process, water also regulates our body temperature via our blood vessels and sweat glands. Water is vital to our well-being. Unfortunately, it is now in trouble.
---
Breaking Through the Shell of Restricted Thinking to Be Who You Want and Have What You Want
by Chris Prentiss
I was waiting at a small airport many years ago, when I struck up a conversation with one of the airport workers, a young man of about twenty. During our talk he found out I had a private pilot's license, and he said that he would love to get his pilot's license. I asked him why he was waiting. "It's too expensive," he said. "As soon as I found out how much the lessons cost, I gave up the idea." "There's opportunity all around you," I responded energetically. "You work at an airport! Talk to the owners of the planes, talk to the pilots, talk to the crew members, find out if there's something you can do in exchange for lessons. When you decide you can't do it, it's over. You can just as easily decide to do it and, in time, you'll have your pilot's license!"
---
Horse As Healer: Transforming Lives and Opening Hearts
by Carol Marriott
Based on a recent research study conducted by the University of Saskatchewan, the University of Regina, the Youth Solvent Addiction Committee, the White Buffalo Youth Inhalant Treatment Centre, and the Cartier Equine Learning Centre, Canada is an international leader in providing residential treatment to First Nations youth who abuse solvents. The White Buffalo Youth Inhalant Treatment Centre expanded its programming in September, 2005, to include Equine Assisted Learning (EAL), partnered with the Cartier Equine Learning Centre. Located north of Prince Albert, SK, the Cartier Equine Learning Centre is noted as a leader in establishing industry standards in the area of EAL certification and program development. The study explains that for some First Nations, the horse has historically been viewed with a profound sacredness, just as there is sacredness believed to be in all living things. The horse specifically is identified as having a strong spiritual power. It is seen to be a "teller of truth" and desires to do the "right thing." Hence, it is believed that the Horse as Healer will lead individuals in the "right direction." A horse's spirit is believed to be able to assist others in understanding their place in the circle of life.
---
Peruvian Shamanic Energy Medicine on the Prairies
by Monté Gagné
The Laika are a group of medicine people whose culture dates back to pre-Incan times in Peru. When their country was invaded by the Spanish, these healers retreated to the high mountains and were not seen for over 500 years. Many believed they had disappeared or been wiped out during the inquisition. In actuality, they had retreated and made themselves invisible, in order to guard their knowledge. The Laika had been waiting for a time when they could share the earth wisdom they keep with the rest of the world. Recently, I sat in ceremony at the Omega Centre in New York State with one of these healers, Don Francisco. In the tradition of his people, I received the Earth Keepers' Rites. Don Francisco is the head of the Quero nation from Peru and is directly connected to the Laika lineage of years ago.
---
Aura-Soma: Colour Therapy for the Soul
by Rositha Jeanson
Aura-Soma is about consciousness growth, bringing balance, ease, and awareness to all levels of the body, mind, and spirit; a means of moving towards positive well-being and personal growth. The word "aura" means light and refers to the facets of coloured light within each of us. "Soma" refers to the being who resides in the body. Aura-Soma communicates the concept that we are, in essence, beings of light, or living energies. As a system, Aura-Soma is a non-intrusive, self-selective colour therapy designed to facilitate the connection between our light being and the light of our physical body. Through a process of selecting from 107 Equilibrium bottles, you choose four bottles to which you are most drawn. As the client stands in front of the bottles ready to make their choice, there is an interaction that takes place between the bottles and the field of the person. The practitioner, knowing the language of colour, interprets the colour bottle choices and what they say about our deepest needs and gifts.
---
Editorial
by Melva Armstrong
As the crisp, cool autumn days speed by, we are now moving away from the light and into the darkness. This is a time to go inward and reflect on all the gifts and bounty we have been given over the spring and summer seasons. It is an opportunity to slow down, relax, and feel the softness of this gentle time of year. We move towards the December holidays of giving and receiving, when we reunite with our family and friends and show our gratitude, once again, for all the blessings we have in our lives. It is after this time that the light starts returning and we move onward in the earth's cycle to the beginning of another new year.
---
Plus:
Profile: A Healing Journey
Profile: Treatments for Rejuvenating the Skin and Counteracting the Aging Process
Profile: Steering Your Life in the Direction You Want
Candace Savage Discusses Her Latest Book – Bees: Nature's Little Wonders
Integrated Energy Therapy® … Healing With the Energy of Angels
Natural Reflections: Enriched Flour's Unhealthy Illusion
News of Note
From Our Readers
---
Recent Issues
---