Archives
---
Volume 14 Issue 5 — January/February 2009
---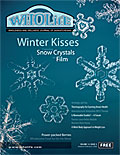 Winter Kisses
Capturing Snow Crystals, No Two Really Are Alike
by Robin Seaton Jefferson
Photographs by Richard Walters © All Rights Reserved
Richard Walters encourages people to pay close attention to their jackets and windshields this winter. As the snow begins to fall and blankets the local landscape, Walters said there is beauty in the details, beauty he goes to great lengths to capture—on film. As many curse the snow because of the way it inhibits their comings and goings, Walters said he "sees the beauty of the fallen snow instead of the nuisance of it." Walters is one of a handful of snowflake photographers in the world. He said he was inspired by a farmer who, in the 19th century, took photography to a new level and wound up getting his work in the Smithsonian.
Read the article.
---
Wholesome Food for On the Move
by Paulette Millis
On a cold winter day, a day trip to Regina and back! A friend and I decided to share six hours of travel and five hours of several planned business activities. The energy and clear thinking of good nutrition, low expenses, and no time wasted were our goals. What to do? Take two wide-mouth stainless steel thermos containers and pack with a hot soup and a hot casserole made from leftovers in the fridge or the freezer. The choice this particular day was Chili Beans and Mom's Potato Leek Soup (see recipes below), both previously cooked. These take about five minutes to heat slowly, and then pack in the thermos containers. Any soup, casserole, or salad will travel for a day in a stainless steel thermos. Add a bag or container of sliced red and green peppers, turnip sticks, or your choice of veggies, sprinkled with toasted sesame seeds and a dash of Celtic salt if desired, a few apples or other fresh fruit, and filtered water or herb tea. Include a few snacks such as fruit leather rolls from the Farmers' Market, chunks of fresh coconut or coconut bars, Rebar fruit and veggie bars, and a container of raw nuts such as almonds, cashews, and walnuts mixed with dried blueberries and cranberries. Don't forget a cloth bag of utensils, napkins, and serving dishes if necessary. Voila! A meal and numerous snacks for the whole day, if necessary.
---
Neurostructural Integration (NST)
A Bowen-derived Therapy
by Yvette Woodrow
Neurostructural Integration Technique (NST) is based on the work of Tom Bowen (1916 -1982), an Australian bodyworker and osteopath. Bowen was famous for an exceptional record of working with some 13,000 individuals per year with an almost 100% success rate. NST was developed by Michael J. Nixon-Livy based on Tom Bowen's work and is taught to professionals such as massage therapists, physiotherapists, and chiropractors who wish to carry on this valuable healing art. NST treatment initiates a process of natural auto-regulation to occur in the spinal column and consequently throughout the whole body. The resultant effect of this is a rapid elimination or reduction of symptoms, followed by an increase in energy and an unmistakable sense of well-being.
---
From Barnyard to Bedside
How Doctors are Learning Better Bedside Manners from Horses
by Carol Marriott
As defined by the Oxford English Dictionary, service is "the action of serving, helping, or benefiting; tending to the welfare or advantage of another; friendly or professional assistance, the occupation or function of serving others." Through thousands of years, horses have been in service to us. According to the University of Missouri there are 7.5 million horses serving people in the United States alone. Horses are all about service. I am encouraged every day as I learn about the variety of ways that horses are changing from being "beasts of burden" to "companions in our physical, emotional and spiritual healing and growth." In a unique and savvy new program called Medicine and Horsemanship developed by Beverley Kane, MD, founder of HorseSensei (www.horsensei.com), Dr. Kane trains medical students and other healthcare students and practitioners to develop awareness of the subtleties of self-presentation and communication that are necessary for the provider-patient relationship and all other professional encounters. In other words, horses are now teaching doctors about exceptional customer service.
---
An Art Therapist Discovers the Creative Prairie Landscape
by Karen Wallace
I have had the privilege of working as an art therapist for the past fifteen years in Victoria, BC, and before that my family and I lived in the Gulf Islands and the South Pacific. I moved here last year and have fallen in love with the soft prairie colours, the open vibrant sky, and the open plains. Having not lived in the prairies before, I find it refreshing and a new adventure to enjoy [yes enjoy] the harsh rawness of the weather. I am very excited about teaching and working here. Art therapy is typically referred for situations in which there is a mind-body relationship to the nature of a person's trauma (i.e. sexual abuse, PTSD). It is also used by clients who seek a more tangibly productive therapy (literally "rolling up your sleeves"), enjoy expressing themselves visually, or for whom talk therapy has not achieved the desired outcome and want to try something new. Art gives children, teens, and adults the opportunity to express powerful emotions, and it is generally described as a highly illuminating, enjoyable, and unique experience.
---
Astrology and You
An Opportunity to Discover Your Authentic Self
by Patricia Sereno
Since the dawn of civilization, mortals have turned their eyes towards the heavens following the movements of the planets, and gazing upon the stars that shine beyond our solar system. Our ancestors paid close attention to changes in the sky. The Sun and Moon were particularly important to early cultures, as their movements dictated and regulated their activities. Animal bones, dating back to 15,000 BC, are engraved with the phases of the Moon. As ancient communities evolved from hunting and gathering to farming, they noticed that they had the best crops when they sowed and reaped at specific periods during the year. They recognized that these periods or "seasons" came at the same time every year, when particular constellations rose in the heavens. Our ancestors noticed that the stars and planets had cycles. Some cycles occurred each year and agriculture was structured around these times. Others cycles were much longer. These cycles showed patterns for scarce or abundant crops. With this information, our ancestors were able to store food from abundant years to support them through the scarce years.
---
Power-packed Berries
Copyright © 2008
by Joe Smulevitz, CH, MH
Bursting with nutrients, berries are one of nature's best foods to help ward off disease. Combating illness with food has a long history. Ancient healers used food as medicine to treat a variety of conditions. Until recently, modern medicine viewed ancient food folk medicine as folklore, without scientific validation. Lately, there's been a surge of research confirming a relationship between certain foods and food components to disease prevention. Delicious berries are one class of fruit that has gained a lot of attention as a disease-fighting powerhouse. Scientists have discovered the presence of large amounts of special nutrients in berries called phytochemicals. Blueberries, raspberries, strawberries, cranberries, and blackberries are loaded with these health-enhancing compounds.
---
Editorial
by Melva Armstrong
With the continuous talk and news reports about what is being referred to as the poor state of our current economy, I find myself choosing to not listen to news and reports about it. Instead, I listen to very peaceful and soothing music, I keep my own counsel, I meditate, and I trust and know that there is a reason for everything that happens, and that good comes out of everything no matter how it may appear. I feel that all circumstances are part of the great mystery of life. No matter how hard I endeavour to keep myself in a calm state of inner peace, I am constantly challenged by outside influences, as well as by my own unruly thinking, and these are my lessons to help me keep focused on the present moment and trust there is a divine order that is unfolding and guiding me, and so guiding each of us on our journeys in this lifetime.
---
Plus:
The Benefits of Thermography for Examining Breast Health
Is Renewable Doable?—A forum in February to disucss the possibilities
A Mind-Body Approach to Weight Loss
The Changing Face of Family and Community
Colour It Green!
News of Note
---
Recent Issues
---