Archives
---
Volume 28 Issue 5— January/February 2023
---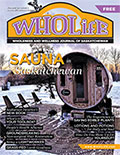 Sauna in Saskatchewan
by Kyla Bouvier
We've added a new team member to the Back2Nature team!
Luna is a mobile wood-burning barrel sauna that is 12 feet in length and 7 feet in diameter which means that she can fit six people comfortably and 8 people cozily! She has a three-foot change room in the front for you to undress to shelter you from the elements. With every experience we offer a cozy outdoor feeling with rugs, chairs, propane fire bowl, lemon water, blankets, sauna hats, and luxury outdoor robes!
---
The Importance of Saving Edible Plants
by Rina Veltkamp
Moss Mama was created out of the love and desire to help connect people with rare edible plants. I have picked up many books with titles, such as The Lost Feast and Eating Into Extinction. We live in this weird time in history where we can love something into extinction, but simultaneously forget about something else and have it completely forgotten. There is an alarming loss of traditional knowledge of slow foods. There are so many unique flavours that could change the way we eat. In the years I have spent studying nutrition, the only conclusion I have come to understand is that diversity in our diet is the best thing for our health.
---
Lotions and Potions for Body and Soul with Angel Kisses
by Sue Letwin
I love creating lotions and potions. I've been doing this since I was a toddler on Long Island making mud pies out of sand, mud, sea water, grasses, and plants. Every moment in my life has been leading me toward enjoying and sharing this joyful experience with others. When I'm measuring, mixing, and emulsifying ingredients I feel like time doesn't exist. There is intention from the moment a formula begins its creation and speaks to me. Creative time often happens in the middle of the night, or upon waking in the morning. I envision the different plant oils I've bottled after nurturing those plants in my garden, or wildcrafting them in my favourite nature spots. I can smell the combinations of essential oils before they are mixed in a lotion. It's exciting when a formula begins to make itself known. My mind is blank when this happens and the plants, oils, butters, and essential oils present themselves to me.
---
Saskatoon Intuitive's New Book Sacred Geometry for the Soul
Could this be the new modality to change the world?
by Ann Chatfield
I, Ann Chatfield, am an intuitive who has spent my life doing energy work on myself and others while searching for modalities that are simple and easy to use. I am a Reiki Master, an Access Bars practitioner, a Yuen Method practitioner, and an Advanced Akashic Record practitioner. While learning and working in these modalities, I continually searched for something easy to use, as most people cannot or do not dedicate hours a week to working at improving their own energy. In the last few years I have channelled and developed the Power Portal Mandalas as a quick way for others to easily do energy upgrades on themselves in their own time and space. Sacred Geometry For The Soul, Volume I, is my new book that shows you how to use sacred geometry mandalas to help gain support and reach your highest potential in every moment.
---
How Do You Show Up for Yourself?
by Jeanne Hoag
Are you exhausted at the end of the day? Is your stress level at an all-time high? Do you feel emotionally and mentally depleted? Have the last few years taken a toll on your physical, mental, and emotional health? Are you consistently giving of your time to everyone around you – work, family, friends, but feel you have nothing left for yourself? Do you recognize the need for self-care but just don't follow through with making YOU a priority?
---
What's in Your "TOOLBOX" and How Do You Use Those Tools in Your LIFE?
Courtesy of the Visionary Hub
At the Visionary HUB we work with personalities, values, conversations, and tools that allow for greater communication skills. When you are looking for tools to step into a better you, relationships in your life, better communication at work, or tools to help you manage your money better, what is it you are looking for, or do you even know?
---
People's Health Alliance (PHA)
by Felicity Butler
People's Health alliance in the UK was launched in April 2022 and has spread across the British Isles at a phenomenal rate. It consists of hubs across the country connecting people to health professionals in each district. PHA is a safety net for people to have access to health care, as the National Health Service (NHS) is becoming overwhelmed. Other countries are adopting these ideas, and creating the same structures based on the PHA blueprint. It is my dream that people will come together across Canada and create the same safety net for Canadians.
---
Editorial
by Melva Armstrong
Another year has flown by and a new year has begun! I feel we are living in exciting times and that the coming year will be filled with many changes that will surprise and delight everyone. It feels like there is a positive healing energy building that will bring a new way of being and living into the world. In fact, it feels like this has already started and will just get bigger as the days and months go by. It's something I would truly like to see happen..
---
Plus:
Groundbreaking Non-Surgical Hair Restoration
Being a Light Worker: A Personal Spiritual Journey
Grass-Fed Lamb Goodness
News of Note
---
Recent Issues
---