Archives
---
Volume 28 Issue 4— November/December 2022
---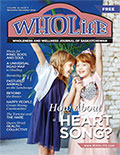 How About a Heart Song?
by Brian Di Giuseppe
Heard, played, or made any songs for children of all ages that emphasize healthy, happy, fearless co-existence and innovation lately!? And/or that affirm our joy full responsibility to constantly co-create a new and better reality?! And/or, that just maintain and remember the peace, love, and beauty we all ready are and all ways will be!?!
---
MUSIC MEDICINE for the Mind, Body, and Soul
by David Schleich, PhD
There are all kinds of music therapy techniques which touch the mind, body, brain, and behaviour. Music therapists work with clients on health issues such as grief, anxiety, and depression. Instead of popping a wobble of acetaminophen (as ubiquitous as Coca-Cola in the retail world) to deal with a headache, or some pervasive malaise in your body and your soul, a growing body of research suggests that music affects the brain in ways that may help promote health and manage disease symptoms. There are music-based interventions to confront anxiety, depression, and pain coming from a number of health issues. These interventions can help reduce depressive symptoms and improve emotional well-being. More music, please.
---
A Universal Road Map to Healing
by Node Smith
What if there was a universal road map to healing? A fool proof plan for ending the suffering in our lives, and reaching our highest potential? I think there is – or at least pretty darn close, The Twelve Steps of Recovery. If you are not familiar with the twelve steps of recovery – which have been adapted from Alcoholics Anonymous for virtually every support group that has followed in its wake – one of the biggest mistakes you could make is assuming that these powerful steps are only for alcoholics, or chemically addicted drug addicts.
---
Queen St Health Collective – Serving Whole Person Health
Courtesy of Queen St Health Collective
Can you imagine a more lovely setting for a healing space than the beautiful, historic 1912 McFarland House, at 716 Queen St in Saskatoon? Over the years, this gem of a building has appeared in many different newspaper articles featuring its 2004 and 2011 revival and rejuvenation; the beginning of the Prairie Hospice Society; and now its rebirth as a healing collective. Property owner, Deborah Black, said, "This whole building has a very special healing energy about it, and the yoga teachers describe the studio space as a sacred space. The day I got possession of the property, the words, 'This building is about healing and wellness' dropped into my head. As it turned out, it has evolved into that very thing."
---
BEYOND the BASICS
Raising our Vibration with the Crystals and Stones
by Pamela Silver
Whether you are new to crystals and stones or already have developed a relationship with these earthly treasures…the stones are here to assist us on several levels, from improving energetic flow in the physical body, evolving the emotional body, strengthening the auric body, to assisting us with soul learning. Raising our vibration with crystals and stones is one way to experience our evolution and acquire a sense of balance or coherence with all the shifting and transformational energy of everything around us.
---
Becoming Me
A Personal Healing Journey
by Elisa Nguyen
I will start this off by saying this was one of the most challenging and amazing things I have ever done. I am not an author by any definition of the word, so I found it very hard to put myself onto paper. In my business and in everyday life I love to empower others to be fearless, do the scary thing, take the leap, that we are all capable strong beings. So I am listening to my own words. After all, growth and transformation can only come from looking outside of our comfort zone. And taking the leap. Here is a little bit of my story.
---
The Tortoise and the Hare, Which One are You?
by Laurie Renton
There is no one who is superior to another simply because of how fast they move. So often in stories, it is the slower animal that reaches the destination first. There are some people who can move quickly through obstacles and issues in life, while others take longer to process their feelings and move into a new state of awareness. A slower pace can be frustrating and exasperating for those who are used to moving quickly. Just like the tortoise and the hare, we all reach the same destination eventually.
---
Editorial
by Melva Armstrong
As I write this editorial, Mother Nature has given us our first taste of winter, with rain and snow and freezing temperatures lasting several days. The forecast says it will clear up and get warmer, and we can always hope that's the case. We have enjoyed wonderful autumn weather, for which we are truly grateful, so much better than other years. What will be, will be, and weather-wise we all have to go with it. I like to be thankful for our many blessings.
---
Plus:
Happy People Create Strong Resilient Communities
When Pastured Animals are Well-Managed on the Landscape
News of Note
---
Recent Issues
---