Archives
---
Volume 28 Issue 1— May/June 2022
---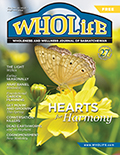 Hearts for Harmony
by Lori Petruskevich (on behalf of Lori and Kelli)
If we want to live in a world where there is beauty and joy, peace and harmony, kindness and compassion, the first thing we need to do is to cultivate these qualities within ourselves. If we do not possess these qualities, we are limited in what we can offer to the world; as the expression says, "You cannot give from an empty cup." Because all of life is interconnected, what we nurture and increase in ourselves also increases in the world around us. As Mahatma Gandhi said, "True love is boundless like the ocean and, swelling within one, spreads itself out and, crossing all boundaries and frontiers, envelops the whole world."
---
Foundational Garden Planning
by Tom Webster
This time of Spring, many a gardener will gather their seeds, carefully selecting what is to grow in the beds or pots of soil that have begun to thaw after their winter hibernation. The question at hand, what would I like to grow this year? With the prediction and wonderment as to what perennials will also return. I've personally been told many times in the past, planning one's garden is a key component to receiving a harmonious, bountiful, and beneficial space. Hence keeping a small notebook within this box of seeds has become an annual ritual. In this small book, notes and maps offer a plethora of insight as to what grew with ease, and alternatively the unruly opposite. Garden planning requires many a virtue, observation, foresight, tenderness, and most of all patience
---
Dead Earthworms and the Elephant in the Room
by Dr. Sussanna Czeranko, ND
Many would argue that our modern environment has become more complicated and toxic since our grandparents' day. In our world it is intriguing to connect the dots between earthworms, those remarkable tiny aerators, drainers and fertilisers of field and garden, and elephants, those exceptional huge creatures with exceptional temporal lobes and their brains have three times as many neurons as humans. We'll return to that connection momentarily, because the image can be very telling when we have a closer look at what is happening to our health, the food chain, and our planet.
---
Eating Seasonally
by Ben Martens Bartel
About 15 years ago, around the time "The 100-Mile Diet" was gaining popularity, documentaries and famous authors were drawing attention to our industrial food complex, our food landscape didn't look very good. All around the world, food systems were depleting soils, mistreating workers, polluting, destroying communities, and ruining our health, while a small group of corporations were making an absolute fortune off it. It seemed that the problem was that everything was opaque – no one could possibly see or understand every part of the intricate system that got our goods and our food to us. Bringing something into the light of day always makes it clearer, but I could never do that with the global economy, the only solution seemed to be simplification, grow your own, meet the people who produce the things you need.
---
Cognomovement: The New Modality in Town
by Cari Moffett
The "Cognomovement" is brand new to the world and comes at a time when it is much needed. Through a series of "movements," Bill McKenna and Liz Larson have figured out a way to help change the messages that the brain is receiving and to create new patterns that are healthier and more useful for us. This all sounds simple, yet complicated; easy, yet hard. Then there's the fun part of playing with a ball. Yes, a ball. Imagine throwing a colourful soccer ball at a client and playing catch for five minutes at a time.
---
The Power of the Brain's Ability to Change
by Patrick Hill
The Anat Baniel Method®, ABM® is a brain-based approach, where new patterns and connections are formed through a series of movement exercises, done slowly and attentively, which harnesses the power of the brain's ability to change! ABM® is supported by today's latest neuroscience research and provides opportunities to understand our physical, cognitive, emotional abilities, and how we can further develop those areas.
---
The Light Within
by Afua Tiah
Intuitively, we know there is a Light within us. We may call it the Spark of Life, our Spirit, or perhaps our Essence. Yet, simply having a vague awareness of this Light isn't enough to experience a balanced and fulfilling life. The Light within us often gets dimmed, obstructed, or forgotten about in daily life. Unless we are consciously making an intention to tune into our Light, it is easy to get lost, distracted, and get out of balance, which leads to dis-ease in our bodies and our life.
---
Editorial
by Melva Armstrong
What a crazy, goofy, upside-down winter we have had this year. I'm sure many of you have felt the same. For some reason winter has wanted to keep its little toe inside our spring season, and we are still eagerly waiting for the warmer temperatures to arrive. We have huge mounds of snow on our land and the temperatures have been below freezing every night, so the white stuff isn't leaving quickly. What can one do except live with it and find a way to enjoy what is. At least I know that eventually the days will get warmer and Mother Nature will become green and lush, and it will be a joy to bathe in the sunlight and walk gently, feeling the warmth and healing, nurturing energy of the earth with each new step.
---
Plus:
Awareness of Conversation Killers
Get Movin' and Groovin' This Spring…
News of Note
---
Recent Issues
---