An Introduction to Clinical Aromatherapy
by Kimberly White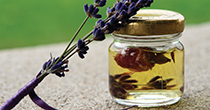 ---
What is clinical aromatherapy and what can it do for you? Clinical aromatherapy, also becoming more recognized as essential oils therapy, is the use of essential oils for specific clinical outcomes. For example, wound care, headaches, migraines, aches and pains, neurological damage, emotional well-being, and much more.
It is a complementary medicine so it works very well with conventional medicine, alternative therapies, or entirely on its own. Essential oils have the ability to naturally balance, regulate, heal, and maintain physical and mental health.
What makes a clinical aromatherapist the best and safest choice for essential oils therapy? They study
• the effects essential oils have on every system of the body
• health issues that make it inadvisable to use certain essential oils
• the chemical constituents that make up these incredible oils
• the safe and effective way to use these gifts from nature
• how to blend essential oils together to get the maximum effect possible to help the body heal itself.
Part of my studies included conducting a research project, where I tested the theory that rosemary (Rosmarinus officinalis CT cineole) would reduce the appearance of varicose veins. Rosemary is known to be a circulatory stimulant and has anti-inflammatory properties. Many people have theorized that it would reduce the swelling and appearance of varicose veins, but I could not find any studies that proved this, so I decided to do my own research.
I had a group of women of varying ages that met my criteria (not having high blood pressure, not pregnant, no history of epilepsy, and not on homeopathic medicines). I had them each use a cream with rosemary essential oil for two months, checking in with them after one month to take photos of their veins. Of the women that completed the two-month protocol, I saw fantastic results in their veins, with a noticeable reduction in the swelling and for those who had pain with their veins, it had disappeared entirely.
When you visit a clinical aromatherapist, it is much like a visit to your doctor or naturopath. There is a confidential consultation which usually takes an hour. It is important for the therapist to understand your health history and know any health issues that may be contra-indicated for certain oils.
After learning your health history, you and your therapist will discuss the health issues that you would like to improve. It is possible to work on up to three issues at one time, using the same essential oil blend. We will also talk about the best method of application for you and your scent preferences. Then, your therapist will create a unique essential oil blend, just for you.
A great option to speed healing is to add an aromatherapy massage to your treatment. Massage is one of the fastest ways to get essential oils into the body, to begin the healing process. Essential oils are blended into a carrier oil, such as sweet almond oil and applied during a relaxing, full-body massage. Essential oils enter the body through the skin and also through the olfactory system for a double whammy to start the healing process.
As a clinical aromatherapist, I focus on the safe use of essential oils. Just because essential oils are natural, does not automatically mean they are safe. For example, tea tree (Melaleuca alternifolia) essential oil has a chemical constituent call alpha-pinene, which is the major chemical constituent in turpentine. Turpentine is natural and has medicinal properties, but most people wouldn't dream of rubbing it all over their skin or adding it to water to drink—we use it to clean paint brushes and strip wood.
As the popularity of using essential oils increases, so does the rate of people being harmed by these oils because they are using them directly on the skin or they are taking them orally. It is recommended to always dilute your essential oils in a carrier oil at a 2% or 3% dilution rate, before applying them to the skin and never take essential oils orally, unless under a doctor's advice. Many essential oils are mucus membrane irritants, so you do not want to put them inside your body. Remember, your liver and kidneys have to deal with everything you put into or onto your body, so be kind.
Children and elderly, or frail, people should use a 1% or less dilution rate and never use essential oils on children under two years of age without seeing a professional first. Never use essential oils on your pets, their sense of smell is so much stronger than ours and it can cause them a lot of discomfort and distress. Avoid using essential oils on cats entirely, they can not metabolize essential oils and it can be fatal.
If you have an adverse reaction to essential oils, immediately pour oil, such as olive, over the irritated skin and then wash the skin with soap and water. Seek medical attention immediately if you experience vomiting, dizziness, have difficulty breathing or severe skin irritation.
Essential oils are truly wonderful, but we need to use them with respect and common sense. Remember, it is called aroma-therapy for a reason, so your first method of using essential oils should always be inhalation therapy and a little goes a long way.
Kimberly White is a registered clinical aromatherapist/essential oils therapist, Reiki practitioner, and owner of Thyme for Better Health Aromatherapy Ltd. in Saskatoon. She has a diploma in clinical aromatherapy from the West Coast Institute of Aromatherapy and is registered with the British Columbia Association of Practising Aromatherapists and the National Association of Holistic Aromatherapy. Feel healthier and happier today: phone Kimberly at 306-717-2270, email thymeforbetterhealth@gmail.com or check out her website www.thymeforbetterhealth.ca and Facebook page www.facebook.com/ThymeforBetterHealth.