Archives
---
Volume 18 Issue 3 —September/October 2012
---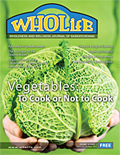 Vegetables: To Cook or Not to Cook
by Sandra Brandt

It is always appetizing to see a colourful veggie platter served as a snack or on a buffet table. Many people enjoy a crunchy green salad with a meal. Fresh pressed juices and smoothies are popular with those who like to combine a healthy kick with a refreshing beverage. Raw vegetables can be enjoyed in many creative forms and combinations. Most people would agree, that generally we could all benefit health-wise from consuming more raw veggies. Some health-conscious individuals and groups go so far as to recommend an all raw, or at least mostly raw diet, consisting mainly of vegetables, fruits, nuts, and sprouted legumes and seeds. So what is the healthiest way to consume vegetables – raw or cooked?
---
Ayurveda in Saskatchewan
Annapurna Joshi
Om to all. I am new to Saskatoon, but I feel like I have always belonged here. The wonderful vast ever-changing sky and mysterious sunsets, and the open and like-hearted people made an instant heart connection with me. Ayurveda has always brought me to places near and far, guided me to be of service, where it is needed. So, I am here now and so is Ayurveda – the ancient wisdom and applicable Science of Life, the only complete holistic medicine system that gives guidance and answers to people's questions in all areas of existence – the physical, emotional, mental, and spiritual. I feel grateful to be able to share my healing experience, knowledge, and practice of Ayurveda with all.
---
The Mystique of the Sewing Room
by Wendy Lynn Conquergood
Juggling the demands of business and home, it's been a long day, but the best is yet to come! "At 8:00 pm I enter my sewing room and revel at the feeling of peaceful calm that immediately enfolds me. The noise, cares, and worries of my daily regime fall into oblivion with the utterance of the first deep, delightful sigh, AHHHHH! As my eyes begin to register the view of my sewing machine, tools, fabric, and thread, a second sigh wells up from deep within, AHHHHH. Yes, the next couple of hours are going to be amazing! While I'm in my sewing room I feel focused and happy. When I emerge energized from my sewing room two hours later, I'm glad for the time spent on personally rewarding tasks. The feeling lasts for the remainder of the evening, an enduring mood of well-being and satisfaction." The phenomenon of "sewing room bliss" is a fairly common experience, it seems. For starters, the desire to sew may very well be a primally ingrained tendency, sparked by survival instincts for protection and comfort developed in ancient times.
---
A Vision for the Future – Organic Connections Conference 2012
November 2 and 3 at Conexus Arts Centre, Regina
by Marion McBride
A Vision for the Future! What is your vision and does it include anything ORGANIC?
Organic Connections president Debbie Miller feels that the organic sector is perfectly positioned to take advantage of a growing list of global, national, and regional opportunities. "I'm excited about emerging local and export markets and the growing awareness of consumers when it comes to their food. Today's families are not only more knowledgeable about the health benefits of organic food, but they also want to recover that connection with the farm, they want to know where their food came from, how it was grown and handled, and how it got to their table." The conference program is designed to not only point you in the direction of those opportunities but to also provide tools to help you take advantage of them now and into the future.
---
The Gift of Forgiveness
by Catlin Landriault
Over the course of the last four years, I've been collecting lessons and quotes from A Course in Miracles (ACIM/The Course) and other resources, not really knowing why, just writing them down on different pieces of paper and storing them in all sorts of forgotten places. Who knew it would lead me to my greatest learning so far. The Universe works in mysterious ways, indeed.
---
Life Beyond The Smiling Mask
by Carol Marriott
Extreme gratitude, a tiny dog, a ton of courage, the love and support of family, friends, and community, and a deep appreciation and acknowledgement of the gifts revealed through challenge are some of the tools in Tania Bird's tool box, as she has navigated her struggle with post-partum depression.
---
Inspiring Integrity
by Paul Elder
Every now and then, out of the harsh realities of life, comes a story of extraordinary kindness and generosity. This is one of those stories. I know it's true… because it happened to me. Growing up in virtual poverty on a small Saskatchewan farm I, like many other rebellious teenagers, placed little importance on the benefits of academia. It wasn't that I wasn't smart enough to pursue a formal education ― I just didn't care.
---
Editorial
by Melva Armstrong
I am still getting used to living on an acreage as each new summer day unfolds. Sometimes I have to pinch myself because I can't believe I actually live here. It seems rather surreal. One day, when I was heading into town on our grid road, I saw a bear just on the other side of the hill. As soon as it saw my car, it ambled off into the woods. Then, on the August long weekend, a friend drove out for a visit and just before he turned onto our grid road, he saw two little bear cubs and took photos of them standing on the road near his car. He didn't see the mother, so we are trusting she is still alive and looking after them. Country living happily includes all those lovely wild creatures that wonder the fields and the woods, and swim in the ponds all hours of the day and night.
---
Plus:
Diary of Yogi (Part 1)
How Can I Use My Life Experience and Personal Background to Help Others?
We'Moon 2013 – Gaia Rythms for Womyn: The Other Side
What Exactly Does It Mean to Be Spiritual?
Respect Past Life Memories: A New Concept for Childcare
Objective Evidence vs Ideology on Environmental Issues
News of Note
---
Recent Issues
---