Archives
---
Volume 18 Issue 1 —May/June 2012
---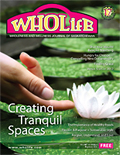 Creating Tranquil Spaces
by Bridget Saraka
Ah, wouldn't you love to have your own personal oasis, a space where you can relax and rejuvenate, a little piece of heaven here on earth? Why not make the best of what you have by creating an outdoor space that nurtures your soul. Whether you have a postage stamp of a patio or an acreage of wide open spaces, find yourself a sacred place to call your own, where you can become grounded in the moment and be still to savour your existence.
---
The Importance of Healthy Food for Kids and the Whole Family
by Beate Epp
So why should you even bother battling with your kids every morning to get them to eat their breakfast? It is easy to give them some money so they can buy their own stuff, or hand them a package of convenient and colourful packaged food that displays their favourite characters. And what about those crispy and crunchy morning treats that come in every imaginable colour and in all kinds of flavours. Open the package, pour some milk on it, and away they go! Or not? This all sounds very easy and we get told from each and every side that is the way to go... the advertising is everywhere. And it is true, easy, and convenient, and one may think it is also healthy, but what happens if we dig deeper?
---
Passion & Purpose = Sustainable Style! What will you be Wearing?
by Carol Marriott
The power of passion and purpose is clearly present when listening to Lisa Wicklund, owner of Regina's award-winning Canadian indie design (handmade by independent artisans) sustainable eco-fashion shop, Seed Sustainable Style, located in the trendy Cathedral area of Regina. When Lisa moved back to Saskatchewan a few years ago, after living in a number of larger Canadian cities like Vancouver, Calgary, and Victoria, she realized there was definitely a lack of independent, green, sustainable clothing and products available.
---
New Documentary Film Shows That Your Health Is In Your Own Hands
—Taken from www.hungryforchange.tv
Despite all the confusion thrown at us by the multibillion dollar diet and weight loss industry, a new documentary film shows us how to take control of our health and weight – naturally.
In 2005, the findings of the New England Journal of Medicine concluded that for the first time in 1,000 years, life expectancy is expected to decline. Put in simple terms, the children of this generation may not live as long as their parents. After intense research, examining the way we live and putting Western food views under the microscope, ground-breaking documentary film makers, James Colquhoun and Laurentine ten Bosch, took these findings one step further and questioned: are we eating ourselves sick and obese?
---
Shut Your Mouth!
A rude comment or a life-saving suggestion?
You will figure this out by reading the rest of the article.
by Craig Moeller
A little bit about my journey. I am a Lutheran Pastor in Regina, SK. A couple of years ago I was suffering from anxiety, depression, cardiac arrhythmia, and sleep interruption. When I hit bottom, I decided to get back into Chi (Qi) Gong which I practiced a number of years earlier. Within weeks of doing Chi Gong, my depression began lifting. It was then that I began to explore what it was about this practice that helped me with my depression. Basically, what I learned is that it greatly influenced my breathing patterns. Further exploration took me to pranayama breath work with even greater improvement in my health. I knew then that the breath was key to good health.
---
Forgive, Understand, and Love
by David Cowan
The title of this article is a "recipe for sanity." Forgiveness comes first in the formula, because without forgiveness, there is no understanding. Please read that again, slowly. This is a very clear black and white issue. What we have not forgiven, we hold in separation. It is actually ourselves we separate from what we do not forgive, and it is ourselves that suffer for it. Why? Because separation is not our natural state. Being unnatural, separation will always give birth to fear. So, we secretly fear what we do not forgive. Fear is contraction. It makes us feel small, vulnerable, and insignificant. This is totally opposite to the truth about you, and so is a lie. What part of us would prefer a lie over the liberating truth? The ego would. The ego is also a lie, and so is not a very reliable lie detector!
---
Venus Stars in 2012!
by Maka
What will happen in 2012? This question buzzes in the airwaves as unprecedented solar flares blaze towards our planet with the potential to wreak havoc with satellites and the electric grid. Our true source of life—this special star that we call Sun—is aligning with the heart of the Milky Way. Life on Mother Earth careens out of balance as we two-leggeds rely more and more on delicate technology (powered by unsustainable dirty energy) rather than experiencing a direct connection with the natural world around us. The good news is that we are not alone! In fact, we were never alone, the humans just got distracted. Our exquisitely beautiful natural world includes a few of Mother Earth's celestial relations – Moon and Venus – who've been dancing with her since the beginning. Here in the midst of the Shift of the Ages, the dance reaches a crescendo. As we would expect!
---
Editorial
by Melva Armstrong
Welcome to our 17th anniversary issue! Each time an anniversary comes up it gives me an opportunity to reflect on the past year, as well as on all the years since WHOLifE's inception. I was inspired to create the journal in January 1995, and it has been growing steadily ever since. It is truly amazing when I think of all the changes that have occurred, all the different people who have designed it, and especially the many advertisers, writers, distributors, printers, and helpers who have contributed so generously and faithfully.
---
Plus:
Healthy News for Coffee Drinkers
Spiritual Journey to Empowerment
Finding Grace
Near Death Experience – What Comes After
Thinking for Ourselves
News of Note
---
Recent Issues
---