Archives
---
Volume 17 Issue 4 —November/December 2011
---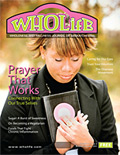 Prayer That Works
Connecting With Our True Selves
by August Gold & Joel Fotinos
Is prayer old-fashioned? Even irrelevant? In our world of immediate gratification, where anything we want is one click away, what do we need to pray for anyway? Many people wonder if there is a place for prayer in the modern world. After all, what can't we get from, the internet, self-help books, television evangelists, super stores, an iPhone app, or E-bay? Prayer doesn't appear to give us the same instant gratification that, say, Google does. We don't get our answers to our prayers delivered directly to our front door via Amazon Prime, second day air for no extra charge.
---
Sugar: A Burst of Sweetness
by Sandra Brandt
It is difficult to imagine a diet without sugar, or more specifically, the crystalline, sucrose rich sweetener we usually refer to as sugar. Those who try to eliminate, or even reduce, sugar in their diet usually face a real challenge. Most prepared food products would have to be avoided. Eating in restaurants or in others' homes also requires great care. Sugar appears in various forms under various names in products and ingredient lists. The word sugar can refer to either the sugar molecules that are present in the chemistry of most living organisms, or to a sweet plant product that we commonly call by that name. In this article, we are using the second form of the word.
---
On Becoming A Vegetarian
by Carolyn Herriot
I became a vegetarian when I landed in Vancouver from London, UK, in 1975, and found myself sharing a cooperative house with five others, who were all vegetarians. The deal was that we each took turns making dinner, and as I loved cooking, instead of being daunted, I dashed out to buy a vegetarian cook book that would teach me something other than egg and cheese dishes!
---
Caring for Our Precious Eyes in the Midst of Daily Life
by Elizabeth Abraham
Whether you are near-sighted, far-sighted, have astigmatism, or your eyes do not work well together, your vision can improve if you give your eyes what they need. No matter what your age, you can learn to lessen your dependence on prescription lenses, reduce eyestrain from reading or computer use, and return to relaxed, dynamic, vibrant vision. Our eyes, like the rest of our body, need the right balance of stimulation and rest. They are both "windows to the soul" and one of the ways in which we connect to the world around us.
---
Foods That Fight Chronic Inflammation © 2011
by Joe Smulevitz, CH, MH
Heart disease, cancer, and type 2 diabetes – researchers have determined these devastating illnesses have something in common. What is it? They all appear to be linked to "sustained low-grade inflammation"– the ongoing release of inflammatory immune compounds that have been identified as a major contributor in the development and progression of many life-threatening diseases.
---
The Oneness Movement
Realizing the Divine Within
by Michael Stodola
For years I have suffered from a "Divine Discontent," a yearning to live in joy and a desire to feel complete. I have observed this same need in those I encounter as we all attend the many presentations that promise a better life, an answer if you will. These courses and practices are a part of our journey to the realization that we are really helpless. Go ahead and look at your life. Are you content and living in a state of Divine Bliss? If so, you may be in an awakened state. If not, then what is missing?
---
Subconscious Mind Correction
by Fay Thompson
Do you consciously know what it is you have to change, but just can't seem to bring yourself to change it? Do you know what you need to do to obtain what you desire, but just can't seem to get yourself to do it? While the conscious mind is often aware of the issues and changes that need to be made, it is the subconscious mind that runs the show. The programming of the subconscious mind keeps us stuck in our limiting patterns of behaviour.
---
Trust Your Intuition!
by Philip Ponchet
Have your spidey senses ever tingled when you were least expecting it? When you followed your intuition did everything work out or did you dismiss your gut feelings and then later on regret it? Some people treat their intuition as a curiosity at best, but for others who have followed their intuition, the experience can have a life-altering effect that resonates to the core of who they are.
---
Editorial
by Melva Armstrong
I have made a decision to pull up my long-time roots from Saskatoon and plant them in rural Saskatchewan. I have always wanted to live in the country and now I am doing just that, and WHOLifE Journal is coming along with me. Yes, I am going to continue publishing the journal from an acreage near Kamsack, which is next to the beautiful Duck Mountain Provincial Park and very close to the Manitoba border. It is a stunningly beautiful area and the acreage is on a hill that overlooks the Assiniboine Valley. I've been a city gal most of my life, so this will be a whole new learning experience for me.
---
Plus:
Colour It Green! Root Cellars and Organic Farming
Wellness Expo Saskatoon, February 10-12, 2012
Wolf Willow Cohousing is Under Construction
Fear: The Siren Call to Change
Natural Reflections: Forever Learning – A Part of Living a Balanced Life
News of Note
---
Recent Issues
---