Archives
---
Volume 18 Issue 2 —July/August 2012
---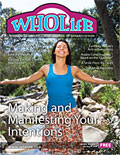 The Art of Making and Manifesting Your Intentions
Excerpted from Get What You Want © 2012 by Tony Burroughs
Your Power
What you are looking for is what you are looking with.
Get What You Want was created to act as a way for you to move, as easily and effortlessly as possible, from the mainstream to the magical. It will bring your level of personal empowerment up to speed so that you can have a positive effect upon your world. It is also designed to help you gain a degree of proficiency in using the Laws of Manifestation or the Intention Process (as we call it), so you will no longer remain as easily controlled by others—others who may or may not have your highest and best interests at heart.
---
Wheat Belly
Lose the Wheat, Lose the Weight, and Find Your Path Back to Health
by William Davis, MD
NUTRI-GROAN
Like most children of my generation, born in the middle of the twentieth century and reared on Wonder Bread and Devil Dogs, I have a long and close personal relationship with wheat. My sisters and I were veritable connoisseurs of breakfast cereal, making our own individual blends of Trix, Lucky Charms, and Froot Loops and eagerly drinking the sweet, pastel-hued milk that remained at the bottom of the bowl. The Great American Processed Food Experience didn't end at breakfast, of course. For school lunch my mom usually packed peanut butter or bologna sandwiches, the prelude to cellophane-wrapped Ho Hos and Scooter Pies. Sometimes she would throw in a few Oreos or Vienna Fingers, too. For supper, we loved the TV dinners that came packaged in their own foil plates, allowing us to consume our battered chicken, corn muffin, and apple brown betty while watching Get Smart.
---
Yogurt and Kefir
Ancient Cultured Products
by Sandra Brandt
Most changes in life start with something very miniscule, that gradually expands its influence until its environment is transformed. This is true of social and cultural changes, as well as physical and chemical changes. This principle is what yields foods like yogurt and kefir. Yogurt and kefir are ancient forms of cultured dairy products that are said to have Turkish origins. Even today, we often think of these foods in association with Middle Eastern cuisine, although yogurt has become quite a commonplace food in Western culture as well. Both are very nutritious and beneficial to health.
---
Access Consciousness™
Empowering people to know that they know
by Kelly Lee Tavson
Have you always known something else was possible? What if you just found that "something else?" After having the experience of a couple of Core Access classes, they left me speechless (yes, me, speechless! Hee hee!) and in awe, recalling describable words like "Awesome," "Wow," "Wow," and more "Wow." It opened me up to a Knowing and shifted my world and it made sense to me. How does it get any better than that and what else is possible?
---
A Smile From the Heart
by Shreya Shah
What does being healthy really mean? If you are full of tension and stress, can you say you are healthy? If the mind is turbulent and agitated, you most probably cannot be. When emotions are not stable and fluctuate too much, you are not healthy. To attain a perfect state of health, one has to remain mentally calm and steady and even have the beautiful qualities of compassion, sharing, and caring. The state of "healthiness" has to flow from the innermost of your being to the outermost, and vice versa. In Sanskrit, this state is called Swasthya: total health. It also means being centred in one's self or being. Swasthya, or health, is not just confined to the body but is also defined by a peaceful and steady state of mind.
---
Scientists of all disciplines not valued and viewed as obstructionists
by Donald Sutherland
Maurice Strong, Secretary General of the 1992 Earth Summit, calls Harper's government, "The most anti-environmental government that we've ever had, and one of the most anti-environmental governments in the world." From what I observe, it's not only environmental scientists, all disciplines are under attack. There is disrespect, even distain, for all knowledge that points to truths counter to our ideological beliefs or economic agenda.
---
Earthing: Nature's Anti-inflammatory
by Shannon Flath
Today's society is bombarded with exposures to cell phones, electronic devices, microwaves, processed foods, and heavy metals on a daily basis. Our bodies suffer oxidative damage from these exposures, which, put another way, is positively charged free radicals at work. If these free radicals are not taken care of, the result will be inflammation, sickness, and pain.
---
Eat Raw, Eat Well
400 Raw, Vegan & Gluten-Free Recipes
by Douglas McNish
Cooking since the age of 15, Douglas McNish fell in love with the kitchen instantaneously. He felt a deep and sincere love for all things food related. Camaraderie, hard work, attention to detail, and the constant creativity were all factors in drawing him to continue his goals and move on to Chef School. After attending George Brown Culinary Chef Program, Douglas took an apprenticeship and continued to hone his skills learning the inner workings of a busy professional kitchen.
---
Editorial
by Melva Armstrong
After the long months of my first acreage winter, I finally have had time to experience my surroundings with warmth. I am loving the lush greenery and the birds singing morning, afternoon, and evening. I especially enjoy the lilting song of the white-throated sparrow, who seems to be singing just for me right outside my office window. I enjoyed watching the trees come to life as they filled out their leaves and grew new branches. The acreage is upon a hill where I can see for miles over the Assiniboine Valley, with its rolling terrain and plentiful trees, and fields becoming green as their newly planted seeds push through the earth.
---
Plus:
The Art of Recycling
John Arcand Fiddle Fest August 9–12, 2012
Transformational Experience After Meeting Tibetan Buddhist Teacher Losang Samten
SOULworks… Activating the Potential Within
A Prisoner of the Mind
News of Note
---
Recent Issues
---