Forever Young in Mind, Body, and Spirit
by Virginia Dakiniewich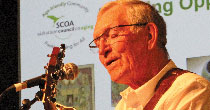 ---
Despite negative portrayals in the media and popular culture, aging can be a wonderful time of self-discovery, independence, and freedom. Healthy aging is the process of maintaining overall health for as long as possible. By maintaining physical, mental, and social health, growing older can be a positive life experience. Taking steps to stay healthy and connected with others as you grow older can mitigate problems and disabilities in later life. These steps can also save health care costs and reduce long-term care needs. Healthy aging is what Spotlight on Seniors is all about.
Spotlight on Seniors is the largest showcase for older adults 55 plus in the province of Saskatchewan. The showcase is hosted by the Saskatoon Council on Aging [SCOA] and TCU Place. The very first Spotlight on Seniors took place on November 1, 1999, in recognition of International Year of Older Persons [IYOP]. In 2003, SCOA has partnered with TCU Place to host the show. Since then, Spotlight grew to become a dynamic lifestyle expo for older adults. On hiatus for two years due to the pandemic, Spotlight returns in 2022 to provide a special day for older adults 55 plus. The Spotlight theme—Forever Young in Mind, Body, and Spirit—embodies well-being for older adults and celebrates growing older in a positive way.
Features of Spotlight 2022
"Welcome Back Lineup" day-long entertainment
U of S Nordic Pole Walking group demonstration
Service Dogs—talented canines perform
The Paddlewheelers play favourites old and new
Century Club: club members 90 years and over share their stories
Fitness demos and more
Other Highlights
Over 65 tradeshow booths
Newest product demos
Refreshments and snacks
"Ask a Nurse" booth
Spotlight is a great place to learn about benefits of physical fitness and explore opportunities for seniors to stay fit. There are many health benefits of being active including improved balance; reduced falls and injuries; helping prevent diseases including heart disease, stroke, type 2 diabetes; and helping you stay independent for longer. "Aerobic activity, like pushing a lawn mower, taking a dance class, or biking to the store is continuous movement that makes you feel warm and breathe deeply. Strengthening activity, like lifting weights or yoga, keeps muscles and bones strong and prevents bone loss. It will also improve your balance and posture." (Public, 2018)
Social isolation places older adults at risk for poor health and well-being. Social connections are just as vital to health as adequate sleep, a nutritious diet, not smoking, and watching alcohol intake. (The Health Benefits of Strong Relationships, 2010) Spotlight is a great place to meet new people, spend time with friends, and learn about social opportunities in the community. Staying socially connected reduces the effects of aging on our brains. "Just like doing crossword puzzles, conversations with friends is like exercise for your brain." (Benefits of a Social Connection Among Seniors, 2019) Research indicates that social connections can help relieve harmful stress levels, which can adversely affect physical and mental health. When other relationships such as coworkers may be complete, friendships can endure for a lifetime and sustain social connections in later years. (Blieszner et al., 2019)
Want to try out something new? Spotlight is the perfect place to explore learning and mental activities that support well-being. Lifelong learning brings a sense of purpose and accomplishment, and brings people together and allows for the all-important social connections to form. It can also keep memories sharp and brains alert. (Lifelong Learning and Healthy Aging, n.d.) A great way to keep our minds healthy is to take a course or explore a new pastime. With dozens of booths and displays, Spotlight provides an endless variety of opportunities for older adults to explore hobbies, pastimes, travel, fitness, and learning.
Visit SCOA at Spotlight—Featuring
Fitness Opportunities—Held from January to April each year, the SCOA Globe Walk is a free monthly fitness event for 50 and up.
Social Opportunities—Telephone Buddy, Seniors Neighbourhood Hub Clubs, Pen Pal, Seniors and Youth Connect.
Lifelong Learning Opportunities—Financial Literacy, Memoir Writing, Technology, Drawing, and much more.
Society is finally advancing to a time where getting older does not automatically mean decline and disability. With a healthy approach to aging, older adults can live vibrant, active lives, and continue to contribute their skills, knowledge, and experience to society for years to come.
Mark your calendars: Spotlight on Seniors—October 4, 2022; 9 a.m. to 3 p.m., TCU Place 35–22nd St. E., Saskatoon, cost $12 (pay at the door).
For more information, phone SCOA 306-652-2255, visit our website scoa.ca, follow us on social media: Facebook @scoa25 and Twitter @scoa3.
The Saskatoon Council on aging (SCOA) is a community leader in the promotion of dignity, health, and independence of older adults through programs, services, education, and awareness.
References
Physical activity tips for older adults (65 years and older). Government of Canada. (2019, July 11). Retrieved July 18, 2022, from www.canada.ca
The Health Benefits of Strong Relationships. (2010, November 22). Harvard Health. www.health.harvard.edu
Blieszner, R., Ogletree, A. M., & Adams, R. G. (2019). Friendship in Later Life: A Research Agenda. Innovation in Aging, 3(1). https://doi.org/10.1093/geroni/igz005
Benefits of a Social Connection Among Seniors. (2019, December 16). Closing the Gap. www.closingthegap.ca
Lifelong Learning and Healthy Aging. (n.d.). www.fraserhealth.ca. Retrieved July 18, 2022, from www.fraserhealth.ca
Virginia Dakiniewich is the Fund Development and Communication Coordinator for the Saskatoon Council on Aging [SCOA]. She coordinates planning and implementation of communication strategies; and coordinates marketing efforts of communication materials via website, mail, press releases, and social media. She provides support to strategic fundraising plans and activities as well as donor relations. As technology changes and evolves, Virginia anticipates many exciting opportunities for SCOA to tell our stories to the community. Also see the display ad on page 27 of the 28.3 September/October issue of the WHOLifE Journal.