Archives
---
Volume 20 Issue 2 —July/August 2014
---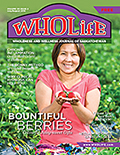 Bountiful Berries
Colourful, Juicy-sweet Summer Gifts
by Sandra Brandt
One of the fabulous things about summer is the abundance of easily accessible fresh fruit. This means really fresh as in fresh picked – rather than the long distance, often bland-tasting versions of supposedly "fresh" produce available in grocery stores year round.
The earliest common fruits we get to enjoy each summer are berries – each one a tiny, colourful, juicy-sweet gift of summer sun, rain, and soil. No poet could ever do justice to these exquisitely luscious little treats.
---
Chronic Inflammation: The Overlooked Culprit of Chronic and Degenerative Diseases
by Ola Awoyomi
According to Statistics Canada (2011), the leading causes of death among men and women in Canada are cancer, heart disease, stroke, respiratory disease, diabetes mellitus (diabetes), Alzheimer's disease, influenza, and pneumonia and kidney diseases 8. Chronic inflammation is the root cause of chronic diseases or conditions from diabetes to arthritis to fibromyalgia. Heart disease, cancer, and dementia are also linked to chronic inflammation6. Inflammation can either be acute or chronic. Many of us are familiar with the signs of acute inflammation: redness, heat, swelling, pain, and loss of functions. Acute inflammation happens as a result of tissue injury from exposure to heat, chemicals, physical trauma or infection by viruses, parasites, bacteria, or fungi 4. Acute inflammation occurs for the purpose of tissue repair and healing. Acute inflammation can last from some few hours to days.
---
Release Your Back With Antigym®
by Ginette Séguin-Swartz
What is Antigym?
Antigym is a holistic bodywork method created in the mid-1970s by French physiotherapist Thérèse Bertherat, author of The Body Has Its Reasons (Healing Arts Press, Rochester, USA). This groundbreaking work started a revolution in the way we think about the body. Antigym bodywork features sequences of small, slow, and very precise movements that are designed to make the back musculature regain its natural length. This ensures harmonious body alignment, youthful posture, flexibility, balance, and pain-free, effortless movement.
---
The Bonny Method of Guided Imagery and Music
by Louise Cadrin
What is the Bonny Method of Guided Imagery and Music (BMGIM)?
The BMGIM is a music-assisted, transformational therapy for emotional, psychological, physiological, and spiritual exploration and support. It involves focusing and listening to specifically selected music while in a deeply relaxed state, expressing the subsequent imagery that is elicited, with a Bonny Method facilitator as guide, and then integrating the images and personal/transpersonal insights into one's life.
---
Use Your Mind to Control Your Life – Why Clinical Hypnosis Can Help You
by Kent Bailey, ND
Clinical Hypnosis: Professionally-guided hypnosis is the methodology of choice for patients who want to take control of their life. Scientific studies show that patients who utilize professionals for their hypnosis, experience much less pain, stress, or anxiety, markedly better sleep, a higher success of smoking cessation, and fewer side effects from pharmaceuticals (including chemotherapy), and radiation therapy. What is hypnosis? Hypnosis is a state of focused concentration that the person enters either on their own, or with the guidance of a healthcare professional. You have probably entered a state of focused concentration today, as you do every day. How often have you driven to a familiar place, only to discover that you don't remember some, or all of the trip? That's because your brain is so used to driving, it can automate the process, without you consciously focusing on the experience.
---
The Four Levels of Intuition
by Simone Wright, author of First Intelligence
Learning to develop and trust our intuitive intelligence is more important now than it ever has been before. According to a recent UCLA study, we are exposed to a tsunami of information that amounts to over 174 newspapers full of data per day. That is more than 5 times the amount of information we were exposed to just 20 years ago. Included in this deluge of data are countless opinions, endless streams of expert advice and a myriad of gurus and guides telling us what we should be doing in order to live our best lives.
---
Reclaiming One's Spiritual Self Through Mystery School Traditions
by Sarah Hauch
The secrets revealed, the truth unfolds…
Until very recently, the mystery schools have been very secret institutions. They contain the innermost knowledge of life and their teachings are deeply rooted in the old shamanic knowledge and ways of wisdom. While these traditions and teachings can be found throughout history, the lineage of the mystery schools can be traced back 3,500 years to the time of King Solomon the Great. The mystery schools have long held and protected the ancient wisdom of the world. Their primary duty was to serve the Light and keep the ancient knowledge alive. Many forces on the planet have attempted to remove or eliminate this knowledge, for within these teachings are the greatest secrets the world has ever known; the greatest power that has ever been available to humankind!
---
Editorial
by Melva Armstrong
At last, summer has arrived after a very cool and wet spring across the province. I am sure we are all feeling grateful to have this delightful season return, so we can explore the great outdoors and perhaps do some travelling and visiting with friends and family. It feels wonderful to be able to go outside, without freezing, and enjoy nature in all its magnificence and splendour. I love watching the leaves come back on the trees as they turn different shades of green with each new day. Then, there is the beauty of the flowers and fauna that reappear like magic every year, and the gifts of the many songbirds that nest in the nearby trees and keep chattering from sunrise until sunset. It is truly a season of rejuvenation for all living things. The return of spring always feels like I am emerging from a cocoon gently stretching my body in all directions, and then beginning to go forth and embark on all the projects I had contemplated during my deep inner work of the winter months.
---
Plus:
Chemical Versus Organic Farmers and the Prospect of Selling Land
Transform Your Mind… Rekindle Your Spirit
Ten Keys to Lone-term Happiness and Contentment
The Prairie on the Great Plains of North America
Unexpected Events Led Business Woman to Become Reflexology Therapist
News of Note
From Our Readers
---
Recent Issues
---