Archives
---
Volume 19 Issue 5 —January/February 2014
---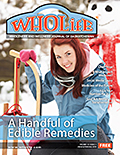 A Handful of Edible Remedies
by Sandra Brandt
Millions of dollars are spent each year on over-the-counter pharmaceuticals for minor illnesses and discomforts, such as colds, flu, headaches, fatigue, and other aches and pains. However, in earlier times there was a much more blurred distinction between food and medicine. All foods affect our health and well-being, either positively or negatively, and sometimes both. Hippocrates famously said, "Let food be thy medicine.".
---
Medicine of the Future
by Donna Eden
Energy Medicine awakens energies that bring vitality, joy, and enthusiasm to your life – and greater health to your body, mind, and spirit! Balancing your energies balances your body's chemistry, regulates your hormones, helps you feel better, and helps you think better. It can be used to overcome illness and it can be used to keep you strong and resilient. It is the medicine of the future, empowering you now to adapt and even flourish in the 21st century.
---
Chair Yoga
by Francine Niekus
Fit people have many options for organized physical activities, but those who really need it, those with strong physical challenges, don't have much from which to choose. Just imagine sitting home alone, feeling how your back or your hip hurts, trying to think of what you can do to take your mind off the pain. Most options involve more sitting, which will only increase your stiffness and add to your pain. How to get that feeling where you breathe deeply, stretch your back, and feel your blood flowing? Where to get the joy of moving, especially sharing it with others? It is hard enough to feel your physical limitations alone, you don't want to add the embarrassment of joining a class and imagining everyone staring at you when your body can't do what seems required. My chair yoga class at the Saskatoon CO-OP on 8th street is designed for this dilemma. Most of its participants have considerable physical problems, osteoporosis, heart problems, shoulder problems, arthritis, hip replacements, knee replacements, or very sore backs.
---
12 is Your Number for 2014
by Abe Brown
There is huge emphasis today on the symbolic and almost spiritual significance of certain numbers and their relationship to our daily lives. Many are captivated by the mystical connection between numbers or units of measurement, and various aspects of our lives in general. My sense is that 12 is the number you need to know for 2014! Twelve is a number of unique significance in many religions, faiths, and forms of spirituality all over the world, and in mythology. Twelve is the number you need to know, understand, and embrace as we move forward into 2014.
---
Social Media Savvy Can Increase Your Business Success
by Clara Penner
When it comes to social media for business, just having a page up on Facebook or an account on Twitter, Instagram, or Pinterest will not help you and your business if you do not know how to use them correctly. If you don't have a plan or platform for you social media, you will not have success on them. Social media does not have to be hard to learn but you need the right tools and teacher. There is a lot to learn, but I want to assure you that even if you feel overwhelmed with it all, it can be very successful. Social media is worth your time – Facebook has one billion monthly active users, Twitter has 300 million – that is one heck of a tradeshow. You can clearly see that these are amazing tools with which to build your business locally and/or worldwide.
---
What is Spirit Medicine?
by Monté Gagné
Spirit Medicine is a healing modality based largely in the traditional shamanic practices of the indigenous medicine people of Peru. At its core, Spirit Medicine is designed to work alongside someone to support their wellbeing on every level. It is based on the foundational belief that good health stems not only from a healthy mind and body, but also from a balanced free-flowing energy body that is connected and open to Spirit. In this sense, Spirit refers to the infinitely powerful, awesome and mysterious energy of the Universe of which we are all a part.
---
Soul Art
Spiritual Wisdom + Physical Embodiment = Powerful Transformation!
by Tara Preston
Have you met your spirit yet?
It was the second time I embarked on my Soul Art journey that I felt the sweet embrace of my radiant, loving spirit. This experience, I can only recall, as a tangible feeling of meeting the essence of my spirit self, only glimpsed at momentarily through other times in my life. I am an intuitive, and while yes, I regularly receive guidance from higher self, and helpers in spirit, this was much different.
---
Editorial
by Melva Armstrong
Another new year is starting and we better fasten our seatbelts because I think we are all in for quite a turbulent planetary ride. According to lots of intuitives, astrologers, and seers, there is going to be plenty of unusual activity on all fronts in 2014. These are exciting times and I'm glad to be a part of it all. I hope you are, too. Every day, it seems more people are turning within themselves to find greater peace and joy in their lives. They are discovering that external "stuff" just isn't bringing them consistent happiness, peace of mind, and well-being. People in droves are turning to things such as yoga and meditation, to healing modalities like acupuncture, naturopathic medicine, homeopathy, energy medicine, reiki, and massage, and couples are switching to natural childbirth with doulas and midwives. It's all so fantastic that it makes my heart sing. I'm so happy that a larger portion of the world's population is turning to more natural ways of being. Although the shifts and changes may seem chaotic, I feel we are entering a time where our world will become more peaceful and loving. My instincts tell me 2014 will be a very dynamic and interesting year.
---
Plus:
BodyRespect and Living Healthy at Every Size
Feel Fantastic Every Day by Using Natural Body Care Products
Post-Christmas Weight Gain and Blurred Eyesight – What Do These Have in Common?
The Thorium Dream Factory
From History of Persecution Emerged a Legacy of Tranquility
News of Note
---
Recent Issues
---