Archives
---
Volume 19 Issue 3 —September/October 2013
---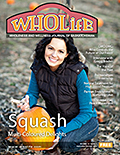 Squash
Multi-Coloured Delights
by Sandra Brandt
Visit any farmers' market in late summer or fall and you can take in an eyeful of multi-coloured squashes of many shapes and sizes. Pumpkins are the type of squash most familiar to us, but it pays to explore and play around with the variety of tastes and textures offered by this whimsical looking fruit of the vine. As a bicycle shopper, I like to load up all my saddle bags and backpack for a trip to the market during squash season, and carry home as many as I can each time. A pickup truck might be a better idea, if you seriously want to stock up for the winter. Or perhaps you have a nice big sunny garden space to devote to growing this wonderfully productive plant.
---
High Blood Pressure – Its Causes and How to Treat it Naturally
by Dr. Sajid Ali, DNM
High blood pressure (HBP) is often a misunderstood condition that people talk about in terms of numbers. It is a serious condition that can lead to heart disease, heart failure, stroke, kidney failure, and other health problems. This article outlines the mechanics of blood pressure and the idea that there is not just one ideal measurement. The various influences are described, as well as how certain herbs can treat them under a health practitioner's direction.
---
GMO OMG
A Controversial Foodie Doc to Hit Theatres September 13, 2013
—Press Release, August 1, 2013, New York, NY
Submarine Deluxe announced August 1, 2013, that it has acquired the US distribution rights to Jeremy Seifert's documentary GMO OMG, an entertaining yet hard-hitting investigation of how laboratory-assisted genetic modification of food affects the world around us. The film is Submarine's follow-up to the Academy Award nominated film Chasing Ice. GMO OMG made its world premiere at the 2013 Berlin International Film Festival. Screen Daily called the film "powerfully provocative" and "a subject that needs to be focused on." Today in the United States and Canada, by the simple acts of feeding ourselves, we are unwittingly participating in the largest experiment ever conducted on human beings. Each of us unknowingly consumes genetically engineered food on a daily basis. The risks and effects to our health and the environment are largely unknown. Yet more and more studies are being conducted around the world, which only provide even more reason for concern. We are the oblivious guinea pigs for wide-scale experimentation of modern biotechnology.
---
Permaculture Internship at Prairie Permaculture
by Stacey Tress, with Intern Danna Bruch
Here at Garden Therapy Yorkton/Prairie Permaculture, we love building community, growing food, and sharing our knowledge of permaculture and other skills (such as fermentation). We knew we wanted to start having interns come and help with our Permaculture Demonstration site, as having a two-year-old makes for limited productive time in the yard! We have been very fortunate to have found Danna who has committed to staying with us from May to September, 2013. We have a two-lot site in Yorkton, where we have a booming Basket Program and teach various workshops. We live in one house and Danna lives in the house next door. In exchange for room/board/food and a permaculture design certificate (PDC), Danna helps us look after all aspects of our site including things such as seed starting, propagating, bed preparation, planting, transplanting, watering, weeding, yard maintenance, fermentation, harvesting, basket program stuff (packaging and giving food to the customers), and more!
---
The Essential Questions
An Interview with Gregg Braden
by Edie Weinstein
New York Times best selling author Gregg Braden is internationally renowned as a pioneer in bridging science, spirituality, and the real world! Following a successful career as a Computer Geologist for Phillips Petroleum during the 1970s energy crisis, he worked as a Senior Computer Systems Designer with Martin Marietta Defense Systems during the last years of the Cold War. In 1991, he became the first Technical Operations Manager for Cisco Systems. For more than 27 years, Gregg has searched high mountain villages, remote monasteries, and forgotten texts to uncover their timeless secrets. His work is now featured as media specials on the History Channel, the Discovery Channel, National Geographic, ABC, and NBC.
---
Partner Enrichment – Nurturing Love
by Michael and Phyllis Giammatteo
Personal growth requires addressing the future. We steer and select perceptions, judgements, and redirections based on values developed by age eight. We learn how to get what we need, want, and desire. We also develop Ideals. People in a committed relationship have Ideals that frequently clash. This creates an Ordeal. The ensuing Ordeal in mature couples leads to a New Deal. E.g.: One partner has the Ideal that a college education is necessary for their child and the other has the Ideal it is not. The New Deal could be, wait and see where the child's path leads. Time is a useful problem solver.
---
The Universal Flag Peace Movement
by Lexi Soulios
We first saw the Universal Flag in 2002, and since that time it has made its way into more than 150 countries. School children from Namibia to Chicago are greeted by the flag each morning. It welcomes visitors to an equine-assisted learning centre in Saskatchewan, Canada, salutes dignitaries in Indian government buildings, and acts as a beacon for participants of a meditation program in Denmark.
---
The Voice of the Poet
by Donald Sutherland
Henry Beissel was born in Cologne, Germany, in 1929. As a boy in WW2, he witnessed the relentless bombing and destruction of much of his beautiful city. He emerged from the rubble to become a poet, author, playwright, and Professor of English at Concordia University in Montreal. In Humanist Perspectives, Issue 183, Winter 2012-13, he had this to say about a poet's voice: "Today, when commercialization is poisoning the space in which the arts can flourish, poetry also has a political function to be the conscience of our tribe by bearing witness in truth to the corruption of civil society and challenging our humanity to come into its own."
---
Editorial
by Melva Armstrong
I have enjoyed the summer very much and I trust you have, too. I could have done without the many mosquitoes, but such is life on the prairies. I recently found a homeopathic remedy that seems to help keep them away, so that is a blessing. Of course, at the beginning, the ticks were out in full force but thankfully they have gone back to sleep until next year. That just leaves the mosquitoes.
---
Plus:
"Hello, My Name is Erin and I'm an Overeater"
Meeting Your Integrative Needs at Broadway Health Collective
Antigymnastique® Awareness Week, Oct. 20–26, 2013
Classical Hatha Yoga – Downward Facing Dog
Natural Rejuvenation Contributes to Youthful Looking Skin
Seeing Beyond the Veil
News of Note
---
Recent Issues
---