Connecting with the Every Day Sacred through Ceremonies, Coaching, Spiritual Counselling, and Yoga Therapy
by Kelly Green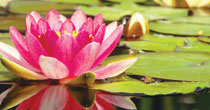 ---
As a bee seeks nectar from all kinds of flowers, seek teachings everywhere.
—Tantra of Zogchen
Personalized Ceremonies
There are increasing numbers of people who find themselves on the periphery of their faith or no longer identifying with a particular religion, group, or belief. As an Interfaith Minister, I embrace all paths to wholeness and unity—an inter-spiritual approach. The basics of my belief are very simple—"one love, many paths." An Interfaith minister is also a celebrant but has more in-depth training than officiants or celebrants. A minister is not someone special or set apart but someone who has made a choice to serve and walk with you on this life journey. Perhaps you are not comfortable with the words religious or even spiritual. No problem! Ceremonies are available to those who would define themselves as civil, interfaith, spiritual, multicultural, non-denominational, secular, earth-based, or a combination of these. We can use ceremonies and rituals to honour and mark the many milestones and transitions in your life, the life of your family, community, and organization. The magic is that the ceremonies are personalized to involve you and capture your meaning. We have all attended services and rituals where we felt disconnected at least and disempowered at most. Creating ceremonies and rituals is a co-creation where it really is all about you! Your beliefs and values are paramount and we collaborate to bring your vision to life!
Some of the ceremonies which I can co-create and officiate include: Weddings, Commitments, Renewal of Vows; Funerals, Memorials; Transitions—Divorce, Retirement, Moving; Milestones—Birthdays, Coming of Age, Graduations, Mid Life, Empty Nest; Family—Baby Naming, Blessings, Baptism, Adoption, Blended Family Unions; Healing, Hope, Living through Loss, Survivor, Missing Persons; Animal Ceremonies (memorials, adoptions); Others—Seasonal, House and Business Ceremonies, Grand Openings, Dedications.
Coaching for Life
Life coaching is a powerful whole-person approach for anyone interested in living their personal and professional lives in a fulfilled and purposeful way. Coaching is a relatively new discipline with much of its foundation found in psychology and philosophy. Spiritual life coaching further expands your potential as you connect with your Source by whatever name you know it.
Coaching differs from therapy in that it offers support for the healthy. Therapy tends to focus on feelings and healing the past, while coaching focuses on where you are today and what you want to create.
I offer "coaching for life" in the spirit that you are the expert. You are whole, complete, and powerful and may want to be more conscious about that connection and more skillful in how to use it in every day life. "Coaching is an ongoing relationship which focuses on the clients taking action toward the realization of their vision, goal, or desires." (Coach Federation)
Life coaching acknowledges your infinite resourcefulness and supports you in creatively and skillfully living all parts of your life in alignment with your deepest values and life purpose. What you focus on does expand. Connect to your passion! Live your best life now!
Spiritual Counselling
Spiritual Counselling is sometimes called spiritual direction, accompaniment, or mentoring. It is not a substitute for conventional counselling or therapy. "The counsellor's role is to help guide the client back to his/her own Source of spiritual nourishment, wisdom, and strength".
Yoga Therapy
Yoga Therapy uses the various elements of the ancient science of yoga to facilitate health and well-being in body, mind, heart, and spirit. Awareness and mindfulness, breath, postures, concentration, relaxation, and meditation will be used as tools to become more conscious. Yoga therapy tends to be a one-on-one approach similar to the way yoga was originally taught.
Connecting with the Every Day Sacred and the Sacred in Every Day Life
In my work I meet people who are experiencing specific challenges such as anxiety, depression, physical illness and injuries; people experiencing life transitions, seeking personal growth, spiritual expansion, and people experiencing some of life's peaks and valleys. Part of my ordination vow is to minister/to serve all those who seek my counsel, help, and guidance, regardless of race, age, gender, spiritual affiliation, ethnic background, or sexual orientation. My intention is to walk alongside you and be your cosmic cheerleader cheering you on to live your most conscious, whole, fulfilled life.
Kelly Green is an ordained Interfaith Minister, Registered Social Worker, Certified Integrative Yoga Therapist, Relax and Renew Trainer, and in the process of being certified as a Spiritual Life Coach. She owns Every Day Sacred…Centre in Regina (formerly Prairie Yoga Centre). For more information about ceremonies, coaching, spiritual counselling, and/or yoga please visit www.everydaysacred.ca or email Kelly at green.k@sasktel.net. She looks forward to speaking with you! Also see the display ad on page 37 of the 15.1 May/June issue of the WHOLifE Journal.