COLOUR IT GREEN!
Community Supported Agriculture: Food Less Travelled
by Carmen Dyck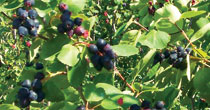 ---
It is common knowledge that food produced locally and consumed locally is better for the environment, the health of individuals, and the whole of the community. Canadian food producers have embraced the idea of providing local food to local consumers, however the structure that exists to distribute food nationally and internationally does not support this initiative, making it difficult to break into national and international food distribution systems for small producers and farmers. It is easier to buy bananas from Mexico than apples from Saskatchewan. Why is that?
The local farmers' markets have been one way to provide local food to communities without involving major distribution systems. The Local Bounty group, created by Tourism Saskatchewan, brings producers and restaurants together to talk about local food distribution and supports value-added products and events to attract consumers to rural areas to check out local food supplies. Some smaller producers have agreements with local restaurants to provide specific foods for their businesses. Producers have also created food distribution projects through a membership system that allows producers and consumers to work together in understanding each other's needs and providing a direct service to community, known as Community Supported Agriculture (CSA).
CSA is a socio-economic model of agriculture and food distribution that consists of a community of members who pledge support to a farm operation, or a group of producers, so that the farmland becomes the community's farm, with the growers and consumers providing mutual support and sharing the risks and benefits of food production. Many people are disconnected from where their food comes from and how it is grown. Although most CSAs deliver local food to urban areas, they can provide direct information to consumers about how their food is produced and processed.
These organizations vary in terms of what food is offered to members, duration, and involvement. Some of them require members to pay "sweat equity" into the production of the food. Producers can provide information about how food is grown, for example, what chemicals are used (if any), what the soil is like, where the farm is located, history about the farm and location, information about the family growing the food, and the practices used to grow and/or process food. Some also allow members to let the producers know what kind and varieties of food they want to buy so that producers can grow specifically for their members.
CSAs have been successful ventures for local producers in the United States and Canada. Because of longer growing seasons, CSAs are bountiful in British Columbia and Ontario. However, in Saskatchewan they are just beginning to gain momentum. This may be related to the rise of the new local food movement here. We have always been connected to our roots and heritage in Saskatchewan; local food has been connected to culture and ethnicity. Saskatchewan was known for being the "wheat province". The products coming out from here are now much more diverse, and include fruits and vegetables of all varieties and heritages, pulses, meats, as well as traditional favourites such as honey, grains, etc.
Two CSAs have sprung up offering local fare to people in the Regina and Saskatoon areas. Etomami Community Organic Farm is located on the banks of the Etomami River south of Hudson Bay, SK. It is now in its second year of operation as a CSA, supplying fresh and frozen garden produce, grass-fed beef, pastured poultry, omega-3 free-run eggs, and a variety of grains and flours year round. It supplied fifty families the first year and is presently expanding to supply 100 families this year. For more information contact Keith Neu at km.neu@sasktel.net.
Fruition Orchards is a newbie to the CSA scene. It is owned by Carmen Dyck and Keith Jorgenson, two locals who have been nurturing a new pesticide-free orchard on the land that Carmen's grandparents homesteaded. Fruition Orchards is actually made up of two orchards: a Saskatoon Berry farm in Viscount, and the pesticide-free orchard between Saskatoon and Aberdeen. They grow honeyberries, sour cherries, gooseberries, currants of all colours, apples, pears, and red and black raspberries. They are planning to offer other agro-tourism opportunities in the near future, as they have purchased and moved the Aberdeen United Church to their farm last year, with the intention of turning it into a cooperative centre, where people who are interested in local food and agriculture can come and prepare and experience local food, art, learning workshops, and activities fun for the whole family. A country store is also in the plans for the orchard.
Fruition Orchards is starting its first CSA project in Saskatoon and area this season with their own fruit, and next year will expand what they offer by inviting other local producers to distribute their products through the CSA, based on their members' requests. Membership to the Fruition Orchards CSA is $20 which includes a newsletter, a tour of the orchard, and access to the church/cooperative centre for booking events and/or renting studio space (coming in the fall).
If you are interested in becoming a member, or would like more information about Fruition Orchards check out www.fruitionorchards.blogspot.com or email: Carmen Dyck at fruition@sasktel.net or call (306) 933-9630. Also see the Directory of Services ad on page 31of the 15.1 May/June issue of the WHOLifE Journal.