The "Non-GMO Project Verified" Seal
Helping You Make Informed Shopping Decisions
— from www.nongmoproject.org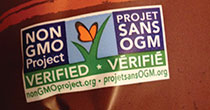 ---
The retailers who started the Non-GMO Project were motivated by a simple idea. They believed that consumers in North America should have access to clearly-labelled non-GMO food and products, now and in the future. That conviction continues to guide the Non-GMO Project, as North America's only independent verification for products made according to best practices for GMO avoidance.
What does "Non-GMO Project Verified seal" mean?
The verification seal indicates that the product bearing the seal has gone through our verification process. Our verification is an assurance that a product has been produced according to consensus-based best practices for GMO avoidance:
• We require ongoing testing of all at-risk ingredients—any ingredient being grown commercially in GMO form must be tested prior to use in a verified product.
• We use an Action Threshold of 0.9%. This is in alignment with laws in the European Union (where any product containing more than 0.9% GMO must be labelled). Absence of all GMOs is the target for all Non-GMO Project Standard compliant products. Continuous improvement practices toward achieving this goal must be part of the participant's quality management systems.
• After the test, we require rigourous traceability and segregation practices to be followed in order to ensure ingredient integrity through to the finished product.
• For low-risk ingredients, we conduct a thorough review of ingredient specification sheets to determine absence of GMO risk.
• Verification is maintained through an annual audit, along with on-site inspections for high-risk products.
Are products bearing the "Non-GMO Project Verified" seal GMO free?
Unfortunately, "GMO free" and similar claims are not legally or scientifically defensible due to limitations of testing methodology. In addition, the risk of contamination to seeds, crops, ingredients, and products is too high to reliably claim that a product is "GMO free." The Project's claim offers a true statement acknowledging the reality of contamination risk, but assuring the shopper that the product in question is in compliance with the project's rigourous standard. The website URL is included as part of the seal to ensure that there is transparency for consumers who want to learn more about our verification. While the Non-GMO Project's verification seal is not a "GMO free" claim, it is trustworthy, defensible, transparent, and North America's only independent verification for products made according to best practices for GMO avoidance.
What about the other products that I see on the store shelf that claim they are "GMO free?"
While you may see other claims regarding GMO status (e.g. "GMO free"), these are really not legally or scientifically defensible, and they are not verified by a third party. The Non-GMO Project is the only organization offering independent verification of testing and GMO controls for products in the U.S. and Canada. Buying products that are verified by our program is the best way to support the sustained availability of non-GMO choices in North America.
Does purchasing "Non-GMO Project Verified" products help make a difference?
Yes! As a non-profit organization, we are committed not only to verifying and labelling products, but also to supporting and coordinating efforts between seed breeders, farmers, processors, and manufacturers. These efforts are allowing us to protect and even expand the availability of non-GMO seeds, ingredients, and products.
What are GMOs?
GMOs, or "genetically modified organisms," are plants or animals that have been genetically engineered with DNA from bacteria, viruses, or other plants and animals. These experimental combinations of genes from different species cannot occur in nature or in traditional crossbreeding.
Virtually all commercial GMOs are engineered to withstand direct application of herbicide and/or to produce an insecticide. Despite biotech industry promises, none of the GMO traits currently on the market offer increased yield, drought tolerance, enhanced nutrition, or any other consumer benefit.
Meanwhile, a growing body of evidence connects GMOs with health problems, environmental damage, and violation of farmers' and consumers' rights.
Are GMOs safe?
Most developed nations do not consider GMOs to be safe. In more than 60 countries around the world, including Australia, Japan, and all of the countries in the European Union, there are significant restrictions or outright bans on the production and sale of GMOs. In the U.S., the government has approved GMOs based on studies conducted by the same corporations that created them and profit from their sale. Increasingly, Americans are taking matters into their own hands and choosing to opt out of the GMO experiment.
If you have questions, please let them know. They love hearing from people and are happy to help in any way they can. Non-GMO Project Headquarters, 1200 Harris Avenue, Suite #305, Bellingham, WA 98225, USA. Toll-Free 1-877-358-9240, email: info@nongmoproject.org. www.nongmoproject.org.