Gracie's Reiki Story
The Joy of Helping an Animal Companion
by Sara Woodhouse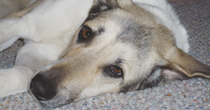 ---
When I first learned Reiki I, I immediately knew I wanted to find a healthy way to share it with my three girls, Gracious, Lucy, and Molly—three wonderful dogs, not hairy children. Because they are dogs, they deal with things a little differently than people. Thank God for that! Through some research I came across Kathleen Prasad of Animal Reiki Source. With her method of building trust through the use of Reiki without confining or forcing the animal, I knew that I would be able to share this amazing healing energy with my girls, which would benefit all, especially Gracious (Gracie).
I found Gracie through a rescue organization. It was love at first sight. She is a beautiful Collie Hound mix, who had very little confidence, was afraid of every little sound, and had not much trust in people she did not know. If Gracie could have, she would have dug a hole and buried herself in it. She was terrified of any loud or sudden noise, causing her to hide for hours in what she found to be a safe spot, usually her kennel. If there was a new object in her path, she had such fear of that object she would not be able to walk past it. Gracie was not even capable of enjoying a relaxing walk on a beautiful day. On our walks all she wanted to do was to run away. All activity we encountered from kids riding their bikes to wind rustling in the trees sent Gracie into a panic mode. When she was able to relax, her energy was amazing and pure. Building her confidence and gaining her trust was a slow and frustrating process, requiring far more patience and knowledge than I had at the time. Gracie's extreme fear and my lack of patience and knowledge inspired me to find a truly happier and healthier way to live.
Reiki is a powerful energy that heals in a gentle and non-invasive manner. It will bring balance and harmony to all levels—physically, mentally, and spiritually. This natural energy can heal over great distances and time.
Reiki is something for which one must ask, and knowing if there is an acceptance or not to receiving Reiki is much easier between two humans than it is between a human and an animal. Humans share the same type of verbal communication but animals communicate very differently than we do. They can't verbally tell us if they want a Reiki session or not. Kathleen Prasad's approach is one of partnership, based on allowing the animal to choose to accept the energy being offered or to choose not to. Allowing the animal a voice in the process builds trust and strengthens the bond between the person and the animal.
Building a Reiki Space is one method that allows the animal to choose. The practitioner simply fills a space, any size, with the Reiki energy and then at any time, the animal can enter into it completely or for just a few steps, taking as much or as little as they want, so that respect and trust are established. This approach works perfectly for fearful and shy animals like Gracie. By building a Reiki Space, it put her in control, so she was able to take the energy in the amount that suited her and at a distance that was comfortable for her. Even though in the beginning she may not have been smack dab in the middle of it, she was still able to receive the energy and all of its amazing benefits. Slowly she went from being as far away as possible to being the first one at my side when I do Reiki. She has become my Reiki sponge!
Reiki has brought harmony and peace to Gracious, and has calmed her fears and helped her to experience joy. The changes sometimes were subtle and at other times astonishing. She now has confidence with new places, unexpected noises, and new people. She doesn't run and hide at every sudden sound. She may be startled for a moment but will quickly move on. She has an eagerness to explore and smell every new object in the house and even a few that she was previously afraid to go near. Gracious is now very welcoming to strangers entering the house. There is a feeling of trust that the person is not there to hurt her and if she gives them a chance they will give her nothing but love. I think the largest improvement is most noticeable during our walks. Gracie is simply happy to be outside, enjoying all of the sights, sounds, and smells. The activity encountered on the walk that would have normally frightened her, is now just part of the scenery.
One summer day, as we went along our usual walking route, we came across two young boys playing cops and robbers on their bikes, shooting back and forth to each other as they rode past us. Typically having anyone passing us on a bike would have been enough for Gracie to panic, being terrified of both the motion and the sound of the bike. Given that it was children on bikes brought it to another level. Kids are especially worrisome to Gracie, for their movements tend to be a lot more sudden than those of adults. I have to admit I caught myself mentally bracing for the impact, the sudden pulling of the leash as she desperately tried to run away from the scene. That didn't happen. Gracie simply stayed by my side, she never broke stride, and she walked past without even paying the slightest amount of attention to the two young boys. They were just part of the scenery and she was all too happy to be out taking it in. I personally wanted to stop and celebrate by jumping up and down, thrilled to have had such a victory, but I have learned that sometimes the best response is to remain calm. So we headed down the street, side by side, Gracie relaxed and happy, and me, beaming and proud of my girl!
There are still moments during our walks where she will react to a noise or to movement but they are not as often nor is the reaction as intense. She will have her moment and then move on. Reiki has brought a balance to her mental and emotional states, allowing for a faster recovery after a moment of fear. Gracie now spends most of her time living in a relaxed energy, rather than living in fear.
Sara Woodhouse is a Level II Reiki practitioner, certified in Reiki for both people and animals. Her training in animal Reiki was from animal Reiki specialist Kathleen Prasad of Animal Reiki Source in California, USA. Sara is passionate about using Reiki energy to help all types of animals and their human companions. She operates Sara's Reiki for Animal Souls located in Saskatoon. To book a Reiki treatment for your animal please call Sara at (306) 270-7685 or email: Sara at swoodhouse@sasktel.net. Also see the Directory of Services ad on page 33 of the 17.2 July/August issue of the WHOLifE Journal.