Solar Energy Systems in Martensville Show Home Courtesy of Unique Business Collaboration
by Jeannine Paul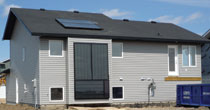 ---
Imagine coming home to your cozy nest that heated itself all day, plus a tank full of piping hot water courtesy of the sun. Well… imagine no more. You are invited to come over and find out what all this looks and feels like in a new bright spot on the landscape courtesy of a recent collaboration between Homes by Ens and Nexus Solar Corporation, both of Saskatoon.
Among the cast at this year's Parade of Showhomes in Martensville, SK, is the "Augusta," featuring a slate of solar energy systems. These include a pair of roof-mounted solar water heating panels, a pair of wall-mounted solar ventilation air pre-heating panels, and a room heater run by its own photovoltaic (solar electric) fan. (See sidebar on page 21 for more about the technologies.)
In addition to the obvious ecological and ethical rewards of going solar, the economics of solar energy are surprisingly good, particularly at today's rates of financing.
While no one wants to take on debt, as long as you are on monthly utility bills, consider it this way. An average Canadian family of four with one teenager spending on average $150 per month on natural gas uses about 40 percent of that (or $60) for hot water. A 2-panel solar domestic water heater will, according to measurements and models done by governments and others, produce 48 percent of the hot water requirements of a 4-person family, or around $30 worth of heat at current rates. The result? For $30 a month you could either buy utility energy or buy a solar system to give you $30 worth of energy for free! A 2-panel solar domestic water heating system, after rebates, inside a 25-year mortgage at 3.95 percent costs $30 per month. It is what we call "a no brainer". Spend your 30 bucks on gas or spend it on a solar system, your choice.
There are other benefits such as: the utility essentially pays for your equipment; you build equity at no net cost; your return on investment increases with every energy price hike; benefits triple if you have an electric water heater; applies to new and existing, residential, and commercial buildings; and best of all, it doesn't cost the earth to live a lighter ecological footprint. It may not cost anything at all.
For more information and to see these solar energy systems visit the show home in Martensville at 604 Regere Place on Fridays, Saturdays, and Sundays from 1 pm to 5 pm. More about solar energy can be found at http://canmetenergy-canmetenergie.nrcan-rncan.gc.ca/eng/renewables/canren.html.
---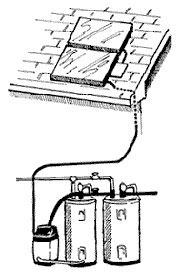 Solar Water Heating
How the System Works
Sunshine heats up panels on the roof containing food grade glycol.
A solar-powered pump moves the fluid to the basement, where a heat exchanger transfers heat to the domestic water supply and stores it in an insulated tank.
This water may be hot enough (especially in summer) otherwise it is raised by the conventional tank (which always draws from the solar system). Can be used to augment space heating, pool heating, wood heated, and geothermal installations.
Solar Ventilation Air Pre-Heating
Tight, well-insulated homes require excellent ventilation.
In winter, incoming fresh air is drawn from behind two solar panels on the south wall.
Pre-heated air causes the furnace to run less frequently in the fall and spring on sunny days.
Pre-heated incoming air also helps the heat recovery ventilator operate better under very cold conditions (our coldest days are sunny).
In summer, the system draws straight outside air into the incoming fresh air intake.
Direct Solar Air Heating
How the System Works
A thermostat is connected to a solar panel mounted on the south wall.
When there is sunshine and the thermostat is set at the on position, heat from the panel will travel to the vent below.
Heat is moved by a solar-powered (photovoltaic or PV) fan that runs only when the sun shines.
Self regulating fan system runs full speed in bright light and lower speed in partly cloudy conditions to match heat output.
Turn to off position in summer.
---
Teresa Jeannine Paul holds Bachelors and Masters degrees in Biology from the University of Guelph, Ontario. Currently president of Nexus Solar Corporation in Saskatoon, she is an advisor to governments and the private sector on sustainable building and land-use development practices. Nexus Solar won the Green Business Builder Award in 2008 from the North Saskatoon Business Association. For more information call (306) 373-5960, toll free 866-303-5960, or visit www.nexussolar.com.