Primal Fire and the Heart Centre of Canada
by Patrick Harbula & Carol Marriott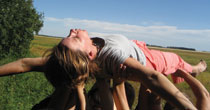 ---
—Dedicated to Our Loving Lorraine Boucher
Could Saskatchewan be the Heart Centre of Canada and perhaps the entire continent? It is, of course, the approximate centre of the country and very near to the geographical centre of the North American continent. The reference, however, refers more accurately to the energetic heart centre or "heart power spot" of these regions.
The Primal Fire facilitators have been interviewing healers and metaphysical teachers around the province, and have found a consensus about this theory. This is a place of intense heart energy, where hearts of people are opened. A friend in Saskatoon relayed to us that Carolyn Reynolds, author of Spiritual Fitness, could feel this transformational energy in her heart when she flew into Saskatoon as part of her book tour in March.
Did you know that for many years Saskatchewan has had the highest rate of charitable giving per capita and highest volunteering of any province? Maybe this is why it seems to be one of the few areas in the world that is continuing to prosper. Giving is the key to receiving. According to Esther Stenberg of Ancient Spirals Retreat (near Saskatoon), "People seem drawn to Saskatchewan not only because of the prospering economy, but because of a bodily-felt sense of yearning or passion that is leading them 'home'. The land and all of life create an energetic matrix, which covers and nurtures all within. It is palpable in our hearts. Those who are consciously reawakening know the pulse, and the pulse calls us to gather as a spiritual community."
I, Patrick, been offering Primal Fire retreat intensives for 20 years in many different locations, high in pine-covered mountains, in the desert, at natural mineral hot springs, and on private island beaches. Every single retreat has been a place where peoples' hearts open. But of all of these weekend retreats, the ones that have been at the top of the heart-opening scale are those I have presented in Saskatchewan the last two years.
What actually happens is people cry a lot (even the most macho of cowboys who have every intention of not doing so). I know this isn't the most attractive promotional statement I could make about an event, but people should know what to expect. Some of the tears are the catharsis that occurs when people are loved and supported unconditionally—feelings from the past coming up to be released and healed. But mostly they are the tears of joy that come from individuals opening, connecting, freeing, and learning at a deep and visceral level the truth of who they are.
The emphasis is all about letting go of our social roles, getting out of our heads, into our bodies, reconnecting with mother earth, and rediscovering who we are at the deepest, most primal level. Oh yes, and participants can leave cell phones and watches at home. We want nothing that connects us to our modern-day culture to impede the releasing and rediscovery process. What, not have my cell phone available? We did actually survive for over one hundred thousand years without them, until the last 15 years or so.
If you are a person who does not like the idea of being intimately connected to others, you will actually get the most out of the Primal Fire because you will get outside of your inhibitions and become free to enjoy connecting with others in mutually-supportive and deep ways.
The Primal Fire uses powerful shamanic practices (ceremonial sweat lodge, chanting, drumming) and psychodynamic processes — including equine-assisted learning (not riding) with the horses as guides to deeper authenticity — to propel participants into the mystery and power within that is waiting to be unleashed.
These are some of the words of thanks that were offered right after the Primal Fire in September, 2008:
"It sure was a wonderful weekend and it has been a wonderful week since then as well. I found myself [this week] seeing so much beauty in the people I was interacting with. I was giggly and moved by the humanity in people. That was different for me. It has also been really nice to be more loving, kind, and gentle with folks at work, to listen more attentively and trust that things will work out for the best. I am truly grateful for experiencing the Primal Fire with you all." —Jean-Guy LeBlanc
"You are all with me every day, in my mind and in my heart, as I remember each and every one of you and your kindness and sincerity. I remember your strengths and your smiles, and I feel your love. In all of my years I have never felt as safe as I did with you all! Thank you for allowing me to feel free and to express myself without any judgment, only acceptance and love. It is quite impossible for me to describe in words to you what this Primal Fire weekend has done for me!" —Joyce Olszewski
"The Primal Fire was all I hoped it would be, and more. My first morning back…I walked around my beautiful acreage crying and laughing. A giant step on my journey to self-discovery and love. I am deeply grateful to all of you. What a Blessing being together with such a compassionate group of loving people, horses, dogs, and land." —The late and loving Lorraine Boucher
This year's Primal Fire experience offers many options. We will hold one session July 10 to 12 at Ravenheart Farms (north of Humboldt) including Equine-Assisted Learning with Carol Marriott, and a second one July 17 to 19 at 4J's Ranch and Therapy Centre (40 kilometers east of Tisdale) featuring "Horse Wisdom Learning" with Ray Joanette, and Touch for Health, Kinesiology, Animal Therapy, Reiki, and other healing modalities with Bonnie Joanette. And if you want to make an entire week of it, you could extend your stay at Ravenheart Farms for a special rate with additional (optional) exercises and lots of retreat time. For more information on both events, please visit www.livingpurposeinstitute.com. We hope to share in the open-heart experience with you!
Carol Marriott is a Certified Equine-Assisted Learning Specialist and Director of the Ravenheart Farms Equine-Assisted Learning and Retreat Centre where the July 10-12 Primal Fire Intensive will be held. It is a 20-acre farm located 1.5 hours east of Saskatoon. Patrick J. Harbula is a Life Coach, author of The Magic of the Soul, and Director of the Living Purpose Institute in California. For more information on the Primal Fire Intensive (including lots of fun photos and testimonials) and to register visit www.livingpurposeinstitute.com or call toll free 866-204-2261. Also see the colour display ad on the inside back cover (page 47 of the 15.1 May/June issue of the WHOLifE Journal). For a complimentary life coaching session to "Live Your Passion" you can an also call the above phone number.