Creating With Clay
by Teresa Gagne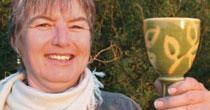 ---
Have you ever wanted to reconnect with your inner mudpie-making child or perhaps play with clay for the first time? Teresa Gagne approaches clay in a fun and creative way and loves to share her passion for pottery with others. She offers individualized instruction, designed to meet your schedule and desires, to groups of up to four people at a time in her well-equipped pottery studio.
Teresa says, "Clay is a powerful tool for me. It grounds me, helps me find my centre and connects me to the Earth as well as to countless generations of potters. Clay is malleable, responsive, and reusable. These liberating qualities encourage spontaneity and experimentation. With a fresh approach, I embrace a 'try it and see' attitude. The profound sense of freedom when I work 'with' the material is invigorating. I engage in the process, channel the flow of creativity and experience a deep sense of satisfaction.
"I enjoy the challenge of designing and making well-crafted ceramics that delight the eye. A well-balanced bowl that feels just right, or a goblet that suggests celebration, gives pleasure to the user and to me. A quiet, contemplative piece can reveal itself slowly, bringing something new every time it is used. Working in series, I strive to create distinct individual pieces that have a relationship to each other and have something of me in them."
Whether you want to spend only a few hours exploring making a mask, or two days a week making a variety of pots using many methods, a program can be designed to suit you. Handbuilt projects could include decorative masks, shields, or utilitarian objects such as smudge pots, rattles, mugs, plates, and bowls. A basic familiarity with the techniques used in handbuilding—pinch, coil, and slab—is easily acquired. Your creativity, coupled with these skills, will allow you to discover the joys of creating with clay and explore the endless possibilities that clay offers. Handbuilding provides a strong foundation for wheel throwing.
Instruction is also available on the potter's wheel. Beginners will be taught how to centre the clay and make cylinders such as drinking vessels, vases, as well as bowls. Decoration can include texture, carving, incising, coloured slips and underglazes, and so on. All glazes used are non-toxic and food safe. Those with experience will have the opportunity to refine their skills and learn a variety of intermediate and advanced techniques such as altering, throwing with additions, etc.
Pottery is an ancient art/craft and throughout history most cultures made pots for function, beauty, and ritual. The first "functional pot" was probably some clay wrapped around food before it was put in the fire to cook. Stunning tiles adorn architectural surfaces, such as those in Mexico, Spain, and Morocco, to name a few countries. The Mayans made many ceramic objects including effigy pots for their ceremonies.
Clay is basically decomposed igneous rock, mostly feldspar and granite. Abundant and inexpensive, clay can be used again and again until fired; then it becomes stable and unchangeable for millennia. From disposable teacups in India, plates in our kitchen cupboards, to tiles on the space scuttle, clay is an integral part of modern life.
Jamie Sans writes in Earth Medicine, "This rich yellow clay has a life. It is a living thing, and with the clay's permission, it will bend to your hands. The pots or bowls you make will have a life of their own, and each one will have a purpose of serving in beauty. The clay is flexible when it is wet, brittle when it is too dry. The maker of All Life knows that humans are like that clay. When we become self-serving, we grow dry and brittle, because we are removed from the river—the Giver of Life. But when we use our creativity to serve others, our bodies and minds become flexible again. The waters of life return to us through our perspiration and tears. The path of service we follow is rich and fulfilling because we have become round and whole. Then, like these clay pots, the Maker fills us with spirit until we overflow. That extra, overflowing spirit is our creativity—a gift from The Great Mystery. We learn that through sharing our talents and our gifts, they multiply and grow."
Saskatchewan is considered to have the best potters in Canada. June Jacobs, owner of the Hand Wave Gallery in Meacham, SK, attributes this to "a strong history of clay in the province with resource persons living and producing both functional and sculptural work. That exposure for young upcoming potters is invaluable, as an example, and as an influence. Successful potters (not just economically successful but those who are willing to experiment and push the boundaries) ensures a place for future potters."
Teresa Gagne's work will be exhibited in "Saskatchewan Flame, Wood Fired Ceramics" at the following locations: Saskatchewan Craft Council Gallery, Oct. 3–Nov. 23; Art Gallery of Prince Albert, Dec. 3/08–Feb. 3/09; Moose Jaw Museum and Art Gallery, Mar. 26/09–May 24/09; Chapel Gallery North Battleford, July 1/09 to Aug. 9/09.
She is also exhibiting work in "Power of 10", an exhibition which celebrates Sask Terra's 10th anniversary, at Last Mountain Lake Cultural Centre in Regina Beach, Nov. 1–23, then travelling to Waterloo, Ontario, to show at the Canadian Clay and Glass Gallery, April 19–June 21/09.
Other upcoming exhibitions include: (1) "Doorways and Passageways", Gallery Artists, Oct. 4–Nov. 7; and (2) "...a toast to you" Invitational Exhibition, Nov. 8–Dec. 22, both at the Hand Wave Gallery, Meacham, SK.
Teresa Gagne lives in Ruddell, SK, which is situated on rolling prairie/agricultural land, a 1-hour drive from Saskatoon and 25 minutes from North Battleford. It is a peaceful place. The studio is equipped with potters' wheels, slab roller, and lots of tools, as well as having a great view of the North Saskatchewan River valley. Fees are reasonable, exchanges possible. Accommodations are available. For more information call (306) 389-2040, email tgpots@yahoo.ca, or visit her blog at http://goingtopot.blogspot.com. Also see colour display ad on page 20 of the 14.3 September/October issue of the WHOLifE Journal.