Glaciers: Our Vanishing Treasure
by Donald Sutherland, PAg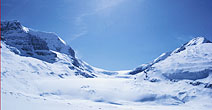 ---
Every one of us is familiar with stories of squandered family fortunes. Common folklore has it that the first generation works hard and builds a base for the second generation. The second generation works hard and saves and builds an even larger "nest-egg" for the benefit of the third generation. The third generation spends more than they earn and end up poor. Glaciers represent a water treasure built over several thousand years. We represent the third generation. We are wasting our great ice heritage (frozen fresh water) as though it will remain forever on the east side of the Rocky Mountains, gradually growing instead of declining as current melt exceeds replacement.
Schindler and Donahue, Department of Biological Sciences, University of Alberta, recently published a very timely article entitled "An impending water crisis in Canada's western prairie provinces." Climate change is well underway with average annual temperature on an upward spiral. The result is annual glacier melt exceeding replacement. Exacerbating the declining stream of glacial water is the sharp upward rise in water use, particularly in Alberta. Heavy users include oil sands based petroleum, agricultural irrigation, cattle feedlots, hog barns, and municipalities. Calgary and Edmonton are both large cities with heavy industry, acres of lawns and many golf courses. Satisfying all of these thirsty users adds up to an unsustainable demand on the supply of fresh water.
Many Canadians embrace two comforting myths. One is that we are awash in fresh water. Not true. We have seven percent of the earth's landmass and we generate seven percent of the earth's terrestrial water. This means that the water available to us through rain and snow is average in world terms. The other myth is that we have far more fresh water than the United States. Again, not true. Fresh water available through rain and snow per hectare of ground surface is similar in the two countries. What is not a myth is that we, and our southern neighbour, face the same scary scenario: our use of water exceeds replacement. The only thing standing between devastating drought and us is the consumption of our great storehouse of fresh water in the form of glacial ice.
What can we do, while the remaining glaciers buy us some time? We can fight against impending water shortage on at least two fronts. The first front is in our own home and back yard. We all waste far too much water. We could install water savers in our showers and toilets and replace lawn grass with perennial grass. Changing our attitude about water from abundant and valueless to scarce and precious is a vital first step. The second front is political. We should throw aside our usual reticence and speak out with passion in favour of policy changes to such things as: raising municipal water rates, preserving wetlands, shutting down irrigation, and using fresh water to force up oil.
We can live without watering our lawns and golf courses but our bodies die quickly without water.
Reprinted courtesy of Earthcare Connections, PO Box 2800, Humboldt, SK S0K 2A0. Phone (306) 682-2407, fax (306) 682-5416, email: earthcare@sasktel.net, www.earthcare.sk.ca. Donald Sutherland is a career counsellor, personal coach, and mediator with special training in restorative justice. He is also a professional agrologist and active farmer, email: donaldsutherland@sasktel.net.